Google Talk's latest update doesn't behave gracefully offline
I've griped before about software programs silently updating themselves on my laptop, and then not behaving gracefully when they find I live in an almost always offline world at the moment, and yet again Google Talk is a prime culprit.
Last time it updated itself without asking my consent, the Norton software and the Google software on my machine just would not play nicely until one of them got a chance to go online again. That time the honours were even for being unhelpful, but with the latest change to googletalk.exe on my machine, it is most definitely Google who have to take the blame.
It used to be that Google Talk would try to log in to my Gmail account as soon as my PC was booted up. If it succeeded I would get a Google speech bubble icon in my Windows System Tray – if it failed it would let me know ambiently by making the icon a duller grey speech bubble.

However, that is not good enough for this new update. Now, if Google Talk fails to connect to the internet it lets me know with a huge splash dialogue box across my desktop.
Could not connect to the Google Talk service (Error 1)
Learn more

It makes me wonder about the state of product management at the Googleplex that this is considered to be an improved user experience.
Clearly I want my instant messaging software to convey to other people whether I have an online presence or not, but I don't need it to remind me every time I boot up my laptop away from a wifi hotspot that I don't have an internet connection. I'm quite well aware of that already.
To add insult to injury, not only do I have to now confirm to Google Talk that I am offline, the error is generated because the application cannot connect to Google Talk's internet servers. Yet the 'learn more' part of the error dialogue is a link. When clicked this fires up my default browser, and yes, you've guessed it, tries, and fails, to retrieve a page from the internet to explain to me that my computer isn't online.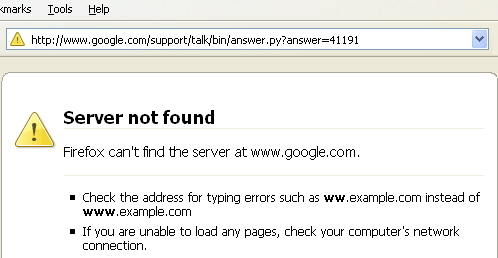 When you are online and visit that address, it tells you
An error message states, 'Could not connect to the Google Talk service.'
This error most commonly appears when you have no connection to the internet.