Searching The Financial Times
Over the last couple of weeks I have been evaluating the search services offered by the online editions of British newspapers. Today I want to look at the specialist financial paper - The Financial Times. FT.com has had a considerable amount of investment during the years, and was one of the earliest newspapers in the UK to move to a paid-content model online.
Search from the Financial Times homepage is via a box underneath the masthead.

The actual results from performing a search are pushed quite far down the results page, as they are underneath some explanatory text about the service.
NOTE: Here are the latest, most relevant, results of your quick search for microsoft from FT, world press and business.com. If you wish to expnad your search, please use the boxes above.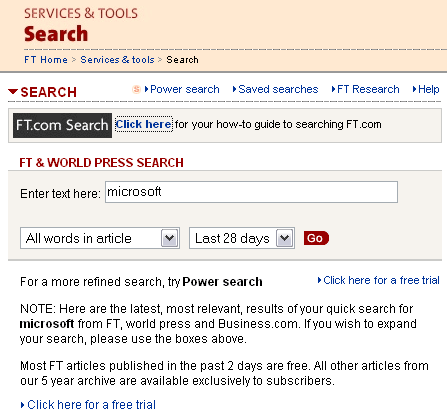 Significantly, the search over FT content only covers the last two days - everything else is behind a subscription firewall.
The search results initially deliver five results each from three sections - The Financial Times, Wolrd Press, and Business.com. The results themselves have a headline, an abstract, an author byline, details of the original publication, and a date stamp. The monetisation of the content available through FT.com is apparent at every step.

The standard search offers some drop-down options to refine the search. Users can choose to search 'All words in article', 'All words in headline', 'This phrase in article', 'This phrase in headline', 'Search this company' and 'Search this journalist'. Results can also be restricted to generic time periods - today, last 7 days, last 28 days, 3 months, 6 months, 12 months, 2 years and 3 years.
The FT also offers a professional research service, and a power search. The power search mode is only available to subscribers, so I didn't test it. I also found that since the FT content didn't cover the same kind of areas of information as my test searches, that I couldn't really judge the relevancy of the results.
Summary of features of the Financial Times search
Financial Times - feature summary
Results per page
15 (5 each from 3 different content areas)
Article excerpt or abstract
Yes
Date stamp (day/month/year)
Yes
Time stamp (hours/minutes)
No
Article word count
No
Navigational or Section information
No
Specifies original publication
Yes
Specifies original edition
No
Specifies original edition page number
No
Results display colour-coded
No
Search terms highlighted in results
No
Relevancy score (%)
No
Destination URL displayed
No
Sponsored links featured in results
No
Site offers web search
No
Default search
Site search, world press search and business.com site search
RSS feed of search results
No
Advanced search options
Power search available to subscribers
Search by date-range
Yes - generic ranges from quick search