Searching The Daily Express
Over the last couple of weeks I have been evaluating the search services offered by the online editions of British newspapers. Today I want to look at the British paper most likely to feature Diana, Princess of Wales or house prices on the front page - The Daily Express.
From the homepage of the Daily Express search is offered over the web, or over the Thomson Local directory, using a radio button selection mechanism.

The search results feature a title, a dynamic excerpt of the result and a URL...and no Daily Express content.
In fact, the only thing connecting the Daily Express to the web search results is the little crusader figure at the top of the listings. There appears to be no mechanism to restrict theweb search to just pages from the Daily Express, or any advanced search features.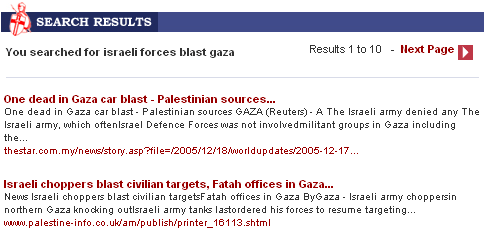 Summary of features of search on The Daily Express.
Daily Express - feature summary
Results per page
10
Article excerpt or abstract
Yes
Date stamp (day/month/year)
No
Time stamp (hours/minutes)
No
Article word count
No
Navigational or Section information
No
Specifies original publication
No
Specifies original edition
No
Specifies original edition page number
No
Results display colour-coded
No
Search terms highlighted in results
No
Relevancy score (%)
No
Destination URL displayed
Yes
Sponsored links featured in results
No
Site offers web search
Yes
Default search
Web search
RSS feed of search results
No
Advanced search options
No
Search by date-range
No