coComment introduce a crawler to track conversations
I've written before about the coComment service, which aims to allow you to track comments you've left all over the place in one tool. They've recently announced some improvements to the service which I believe have really taken it to another level.
The major change is that instead of aggregating conversations based on what has been submitted by coComment users, they have introduced a crawler which will aggregate comments from a page regardless of whether the other users are coCommenters or not.
This is a big step forward, and if done well means that the 'your conversations' page can become a really powerful one-stop shop to track conversations. With the previous non-crawling iteration I found that the majority of the time I still had to re-visit the original site to see if there had been any replies to my comments.

The arrival of the coComment crawler also provides another brilliant little feature - the ability to track a conversation without having to take part in it, and the code seems to integrate really well now into a lot of standard blog comment form templates.

On the downside, I appreciate that the coComment team need to get the value of the service in the face of their potential users, but I found the overlay pop-up that sprang into life when I tried to use some coComment functionality whilst not being logged into the service really huge and obtrusive - taking up nearly the full height of my browser window.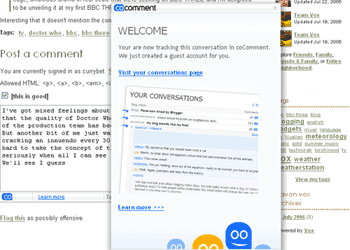 The system also allows user to explore other people's comments, and to look at the tags they have used on their comments. The tag views focus on the last tags to be added, and the most popular tags - which ended up being quite a similar list. I am a little concerned that, like several 'Web 2.0®' applications, tagging has been implemented without much thought to whether it will actually aggregate into a useful folksonomy. At the moment on coComment people seem to be tagging a lot about the fact that they have commented on a blog powered by wordpress rather than that they were writing about Gwen Stefani or Mark Hollis.

I also didn't really notice whether there was an actual search function across the tags - in the end I found that editing the URL was the quickest way to browse the tags.

The list of blogging and messaging platforms with which coComment now works is very impressive, if still not completely comprehensive. Using the Firefox extension makes it unobtrusive to use, and so I think it is a system I will start to use all the time now.