More reboot:bbc.co.uk designs - part three
I've been having a look through the late flurry of entries to the BBC's reboot:bbc.co.uk homepage redesign competition.
BBC Active Home by Paul includes a very neat tiny embedded radio player at the top of the page, although he concedes that unless it uses AJAX or iFrames or some other magic-widget-tech, it isn't going to work very well for people who immediately browse away from the homepage and lose the stream.

Buried in Paul's very long explanatory notes is this gem of an idea for the radio player:
Id customise mine to startup on radio 1 wheneve i logged onto my bbc homepage or if it had the options of a diary style system id say all weekdays go to radio1 then on saturday afternoons go to five live.
Another great idea tucked away in a design was 'Wikiscript', a collaborative user-generated script-writing wiki for a season finale of EastEnders illustrated in triplejohn's "BBC Feeds" entry

BBC rocks by Jascko not only has a great The Apprentice pastiche in the video section, but also promises a downloadable BBC toolbar for IE/Mozilla.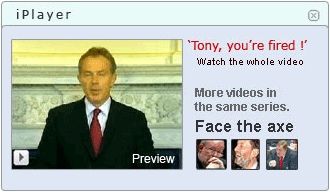 In terms of extending the functionality of the page, Addam's BBC Redesign 2.0 goes further than my idea of the BBC offering a view into your webmail inbox, with the centre-piece of the design being a personalised events calendar. Given that the DCMS were unhappy with the BBC listing public events at bbc.co.uk/whatson, I can't see this one getting state approval.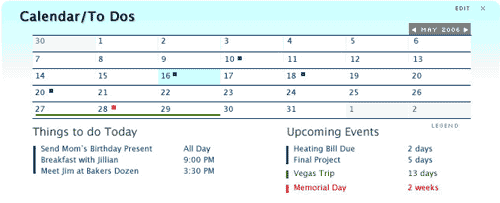 I'll be looking at a final selection of designs tomorrow.