Is the BBC's World Cup blog the new Slashdot for football sites?
One of the disadvantages/advantages of living in Greece is that I don't get to watch England friendlies anymore (delete according to whether we are turning over Hungary or being humiliated by Australia) which means I didn't get to see Peter Crouch's inexplicable robot dancing this week.
I did though get to witness the aftershocks on the internet. The BBC Sport World Cup Blog linked through to a site that had some video of Peter Crouch dancing, and promoted it on the front page.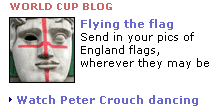 That immediately crushed AnfieldRed in a Slashdot traffic surge style.
AnfieldRed is experiencing issues due to the popularity of an article featured on the BBC website, we will resume full service shortly
In the meantime those looking for the Crouch robot video can see it above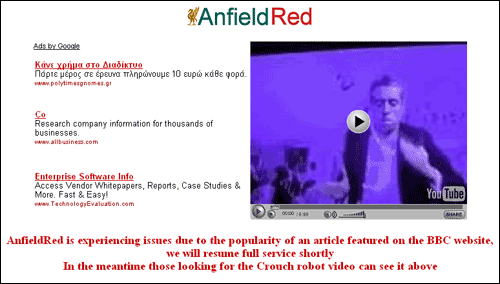 Fairplay to the Liverpool fan site, they were using You Tube which kept the video up-and-running, and kept the site up. Of course, if they'd opted to use Revver.com to host the video instead, they might have made some money from it as well ;-)
The actual video of him dancing during the game can be found here - http://www.youtube.com/watch?v=yXQzVXWMfjo