UEFA.com podcasting the European Soccer Review
The UEFA.com website has been quite forward thinking in its use of embedded video and other multimedia, and recently has ventured into the arena of podcasting, with the European Soccer Review podcast. It could potentially be seen as yet another attempt by UEFA to dictate the media agenda of the European game. What intrigued me was the collision of a still niche technology like podcasting and the mainstream interest of European football.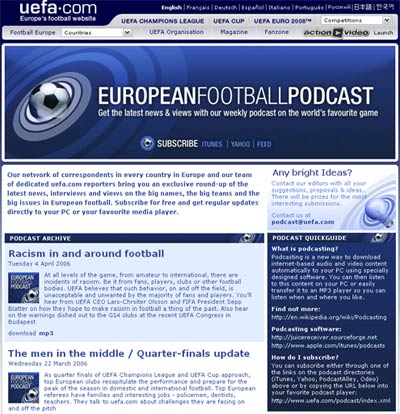 The podcasts themselves appear roughly every couple of weeks and last around 25 minutes. Recent topics that have featured include racism in football, referees, and the impact of money on the sport. The editorial content isn't too in depth, since it has to cover a lot of geographical ground in most items.
Of more interest to me was how UEFA.com have tried to pitch the concept of a 'podcast' to their users. Like many people they have opted to link to the Wikipedia definition of podcasting, which appears to be pretty definitive as far as the web is concerned. The major brands involved, iTunes and Yahoo! get due prominence, but UEFA.com also links to the Juice Receiver software on Sourceforge and name-checks both PodcastAlley and Odeo. Each edition also features a prominent link to download the mp3 file directly, and I wonder what proportion of the audience do this rather than subscribe via the XML file.
As the production quality is well above one person and their iTrip microphone, but with recent studies showing that only a fraction of the internet population listen to podcasts, I am interested to see how long this initiative by UEFA.com lasts.