Gaining Online Advantage: Personalisation - part 12
This is page 12 of a 13 page article - 1 2 3 4 5 6 7 8 9 10 11 12 13


Download a print version of this article
Personalisation
The last major area that I'd like to talk about is personalisation. Personalisation was quite a buzz-word around the internet a three or four years ago, and people get very excited when they think "Well, if Amazon knows what I've bought, and can make suggestions based on that, it must be quite easy to do that kind of thing". Equally attractive to businesses is using personalisation to precisely target people with advertising and retail opportunities.
Back in 2001 the BBC was winning awards for their personalised portal page - myBBC. As a services, and as a back-end application, it was ahead of its time - effectively allowing users, once registered, to build their own BBC homepage by choosing modules of BBC content, rather like today's My Yahoo! uses RSS feeds to build a personalised web hub.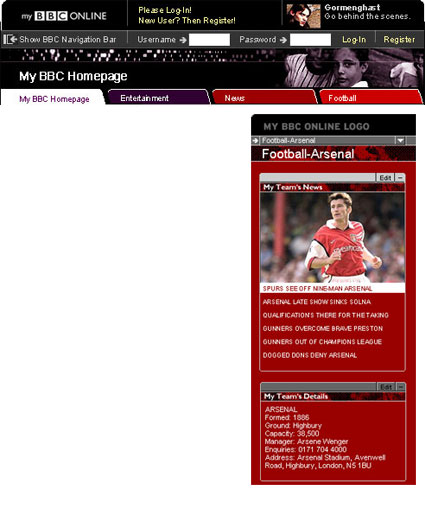 myBBC was actually quite hard to use, and for the kind of audience that the BBC has - inexperienced and light internet users - it was too complicated. Ironically having shut down the service in 2002/3 the BBC is now having to revisit the whole idea of how to deliver personalised content direct to the user, via RSS and other syndication models.
There is quite an important strategic and cultural decision that you have to make when you are going down the personalisation route - how much do you want to cede control of your content to your users?
It may be that your business operates in different spheres of interest, and people would want to select a sub-set of those interests and be presented with the latest headlines for their sector on the homepage. However, does that restrict your ability to cross-promote your information and services beyond a level which is strategically tolerable?
One of the things that the BBC has found when it has user tested personalised scenarios, particularly in the news arena, is that when you offer people the chance to personalise things, they often get a fear that they are "missing out" on something. I think this is something that is particularly important for the BBC, the feeling that if I set my homepage to always give me the latest news about Science, will I miss out on something else I might have been interested in from another category.
So the business decision isn't simple about how much control you give over to the user, it is about determining whether the users will trust the personalised solution they are being presented with, or will they be left feeling that there is something 'more' that they aren't getting.
At the moment the BBC has fairly limited personalisation functionality across the main areas of the site - the choice between UK and International edition across News, Sport, Weather, TV, Radio and the homepage being the primary mechanism for delivering targeted content to the audience.
For TV listings, however, it is quite important to allow people to personalise the dataset to their specific television region, as programming differs across the UK as a whole. Another area where the BBC offers personalisation is with the Postcoder service - entering your postcode on the UK homepage will tailor the weather display to your local area, and localise the links to event listings.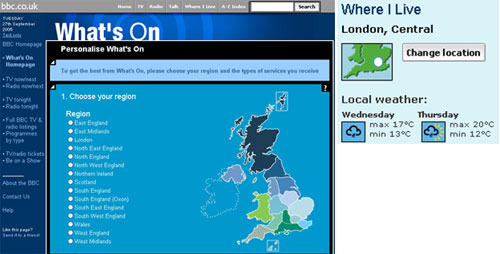 You also need to be aware that getting personalisation wrong can also really upset your user base. In 2005 to coincide with the Glastonbury festival the BBC changed the default location for the weather on the BBC homepage to point at Glastonbury instead of London. It was the start of a plan to rotate the default location around the UK, to both demonstrate the personalisation functionality available, and to avoid the site looking so London-centric. However as soon as it was changed the BBC were swamped with complaints (mostly, it must be said, from lazy Londoners who had never bothered to enter their postcode and set the cookie but had just relied on the default setting) and the plan was abandoned.
Yahoo!'s take on personalisation is very interesting. I saw an excellent talk by one of their leading lights, Jeremy Zawodny at the Open Tech 2005 conference in London last year, where he was talking about the concept of open content. They feel confident enough with their personalisation engine, My Yahoo!, that they will allow you to take in feeds from just about anywhere. There is no attempt to lock you into using purely Yahoo! originated content. I'm not sure it is an approach that would suit many business models, but it is quite an ambitious way of saying if we can't give you all the content you want from your homepage, don't worry, you can add in anything you like.
So, whether you decide to offer personalisation on your web presence or not, it is something that needs to be thought of and decided at a strategic level. And, as always, you need to make sure you understand how it fits with the business and audience needs you identified when you defined what your web presence was going to consist of.
Continue to the conclusion of this article, looking again at the major themes identified as the successful components in planning a successful web presence for a large organisation.

Download a print version of this article