"Shame on you, BBC. Shame on you, Tony Blair"
"Shame on you, BBC. Shame on you, Tony Blair" was the song on the lips of a group of protesters outside BBC Television Centre. When I worked at Bush House it was quite usual to see protests in the area, very often outside the Indian High Commission, but at Television Centre the protests tend to be more likely to involve BBC staff than the public. In fact I can't remember myself seeing another demonstration outside TVC, although I know they do happen, it was after all here that a vicar tore up his TV Licence in protest at the screening of "Jerry Springer: The Opera" earlier this year.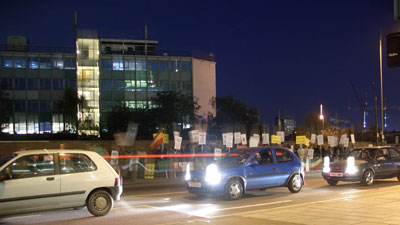 The protest today was about coverage, or lack of it, of events in Ethiopia. I was handed a leaflet:
Genocide is taking place in Ethiopia. Others are speaking out. Where is the BBC?

On 14 Nov 2005 issue of the new statesman states: "In the Ethiopian capital, a regime hailed as progressive by Tony Blair has shot women and children in the streets, detained thousands, and rounded up the opposition leaders who accuse it, with ample justification, of rigging election in May. Embarrassingly, the forces involved in these abuses were trained by the British police officers, at British taxpayers' expense" [sic]
There has certainly been some coverage of the situation on BBC News online at
I also found some interesting resources about the issue at:
It was, to be absolutely honest, a situation about which I previously knew nothing at all.