'Disturbingly psychotic' - Points of View used in the news again
Another set of quotes from the BBC's Points of View message board has been propagating around the interweb in the news reports of the volume of complaints the BBC has been receiving about the recent Digital Television trails that have been showing.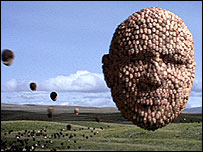 This post has come to be seen as containing the defining phrase - 'disturbingly psychotic'
I am writing about the new advertisement for digital TV showing severed heads floating in the air and coagulating into one large talking head. As a registered psychotherapist, I wish to protest that this image is disturbingly psychotic. Its unacknowledged aggression could make a fragile viewer ill. I think you should withdraw it at once.
The quote has been used by BBC News, The Mirror and The Scotsman in their coverage of the story. The BBC has responded on the complaints site, but the advert, and the response, have been slated in message after message on Points of View.
It does seem to have touched a real nerve with some people. One host on the Points of View posted a link through to the BBC News story to show that the BBC was using quotes from the messageboard, only to be told:
no doubt you meant well, but you should have warned us there was a picture from this horror show on the page.