The Guardian Redesign - My Tuppence
So after more than a week of published issues I feel qualified to become the gazillianth blogger to comment on the remake/remodel of The Guardian. (In fact I am given to understand that last week more people wrote blog posts about theguardian's redesign than took part in the fuel protests).
My interest of course is mainly how the print version reflects the internet. It does it loads. Not least on the front page where the teasers at the bottom of the page offer 'navigation' to inside the paper using » or » as I know it.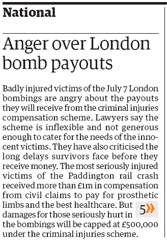 The new paper also has a nice round-up of web quotes on page 2 about a topical story, and a listing of the most viewed stories online.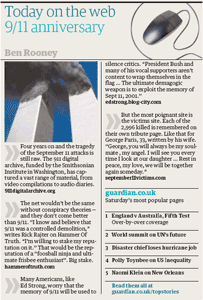 Pete Ashton asks why the printed version doesn't link more directly to the site:
How hard would it be to have a short, TinyURL style address at the foot of every article? Something like guardian.co.uk/050912/34, say, which would redirect to the normal crufty address. Obviously this would be useful for bloggers but surely ordinary people too?
I think I'd rather not be the person running down shouting "Hold The Press! The content management system has just barfed and we have to redo all the TinyURLs before you can print the physical paper", but I understand his point. I think they seem to be doing a good job of setting up top-level directories that map to the latest content though - I'm not convinced that the online site used to have guardian.co.uk/petrol, guardian.co.uk/armstrade, guardian.co.uk/france, guardian.co.uk/italy before - although I'm willing to be proved wrong.
User-generated comment is also very well embedded in the new format - The Fiver newsletter has been plugging it for a couple of weeks, but for football they are offering a 'Your Reports' section, with the contributions from the public alongside those of the professional writers. The reports are given for free - I'm sure Barry Beattie would have something to say about that.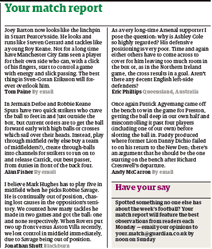 Of course, some things would have arisen regardless of the size of the paper. Thursday's decision to lead page 2 of G2 with Jess Cartner-Morley's piece "Why Kate Moss is the coolest woman on earth" didn't look so clever as other newspapers splashed their front pages with allegations about her cocaine use, especially now the tabloids have subsequently let rip by publishing seemingly every mention of Kate that ever graced Holy Moly or Popbitch, regardless of the level of supporting evidence available.
Another big test for me on Thursday was how TechnologyGuardian inherited the mantle of Life/Online. "Must do better" would be my verdict. The supplement carried many similar features, but it didn't seem to have the same relaxed editorial 'tone of voice' that Online used to have. I missed the page headers listing useful links and Top Sixes, and the plethora of brief articles pointing to stuff on the web. Whilst elsewhere in the paper the revamp has given greater prominence to related web-content, a quick glance through the technology supplement shows only 7 URLs to follow - five VoIP providers, one Guardian blog and one person's Typepad blog as their name/address in the letters/blogback section. Still, it was the first attempt, and I couldn't help but notice that on page 9 it was advertising for its own future editor.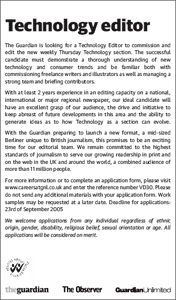 Working inside the media I've been fascinated about how open The Guardian have been about the whole design process - with their Flash video interviews, and Editor's blog, and the very quick u-turn over Doonesbury. It has sparked some discussion in the office about whether we should be doing a similar thing about a couple of redesign launches for the website we have coming up.
I can't help feeling that whilst the minutiae of the decisions are interesting within the industry, the BBC is in a slightly different position. The Guardian has made a commercial decision to change size, and needs to convince not just the industry but readers and advertisers as well. I'm fairly certain that if we took the same effort to explain some major design changes on the BBC site we would get a significant proportion of contacts from the audience wanting to give us a slap to stop us navel-gazing and concentrate on making better Saturday night television, or something like that. Already we get people posting on our message boards saying that being answered directly by BBC staff on the board is proof that we don't have enough work to do.
Some features already look like they might not last the distance. By Friday the page 2 "web zeitgeist" feature had already shrunk to being three items, with no chart of the most popular stories online. (Saturday had the full measure, Monday the cut-down version again - maybe it depends on the word count of 'Column five')
Or maybe it is to make way for Doonesbury? Intrigued by the furore that had surrounded the disappearance of Trudeau's strip, I couldn't help read the omnibus catch-up in Friday's G2. And I couldn't help but be totally underwhelmed. I was reminded that in justifying the original decision to drop the cartoon Ian Katz said:
Obviously design problems would not have been enough alone to warrant dropping Doonesbury - after all design is meant to enable you to fit what you want in the paper, not dictate what goes in. But the design problems got me wondering how many people actually read it. I've never been a regular follower of the strip - though I've always appreciated it's acuteness - and it often seemed to me to be symptomatic of an obsession with all things American in the UK media that sometimes seems to skew our coverage away from the rest of the world. I wondered too if the commitment to running Doonesbury daily was getting in the way of developing new cartooning talent closer to home.
I'm tempted to agree. On Friday Doonesbury consisted of 5 lots of what I thought were fairly obvious jibes at the current USA administration, which coupled with George W. Bush's 'Purple Ass' in Steve Bell's 'If' meant the entire cartoon output of G2 revolved around poking fun at the government of another country.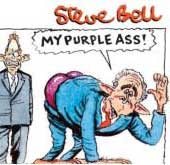 (Mind you what do I know? As long as I get my fix of Nemi each day in the Metro and my Dilbert RSS feed I don't really need another cartoon strip in my life. Especially as Dilbert appears to sometimes resemble my life.)
Respect is due to Steve Bell though, who tapped into the backlash and on Wednesday's G2 back page had the If... penguins not only in a panic about gaining colour, but also reporting the theft of Doonesbury to the police.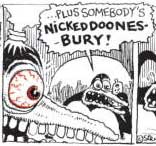 Of the new features I liked the 'how to' columns. There is one for bridge, which I am not interested in, and a 'how to' play chess well, which I am interested in. I am most intrigued that a national newspaper is finally running a regular how to do crosswords feature. Maybe I will at last be able to join in when my in-laws tackle cryptic crosswords together - as so far I have steadfastly been unable to absorb the knowledge of how you are meant do them by osmosis.
One issue that occurred to me was that they have made such a big deal of having a new exclusive font - Guardian Egyptian. I wonder how that translates to the web? Do they accept a compromise from the Helvetica/Verdana school of type, or do they do something like offer a simplified version of the font as a PC and Mac download to subscribers or registered users to keep typographical harmony across the properties for regular users?
Of course I have to have a design niggle - it would be churlish not to. I can't understand why the sports supplement has decided to colour in the promotion and relegation places in the English League tables, and then on the same page ignore that promotion/relegation happens in Scotland or the European league tables they print. It looked even sillier on Wednesday, when English league tables were directly next to Champions League tables.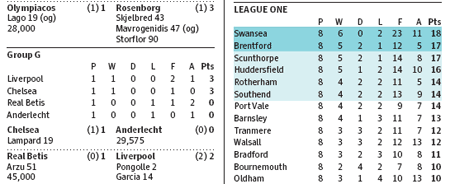 It will take around 38 games and until May next year before the zones mean anything in League One, whilst in the Champions League we are just waiting for five games and November until separating the Big Cup wheat from the Euro Vase chaff.
I was horrified on Saturday when I picked up the paper at the sheer bulk of it. Despite the Berliner size it seemed to expand exponentially to fill the size of my bag. It was only later on I realised that I had picked up a copy that had generously been provided with duplicates of nearly all of the sections.
I have to confess that rather like a non-smoking pub in Walthamstow, if someone offered me a serious newspaper on a Saturday that had simply the news section, a sports section and a weekly TV guide I would make it my regular in a heartbeat.
The randomness of the insertion of supplements caught me again on Monday, when in some sort of karmic reversal I didn't get the media supplement, even though I would have willingly swapped two of Saturday's travel sections for it.
On both days I didn't notice until it was too late - simply down to the fact that I am still unfamiliar with it - I just don't know yet how much to expect it to weigh. Or how to fold it so it doesn't look like the newspaper equivalent of carrying some kind of lap-dog under your arm.
The bottom line for theguardian/The Guardian is whether the new format can change my buying habits. At the moment my newspaper purchases are split roughly 50/50 between The Guardian and The Independent, with occasional forays into The Times or The Telegraph if something catches my eye either in Tesco or over someone's shoulder on the tube on the way into work. Time will tell, time will tell.
However, all this thinking about what a redesigned newspaper has learnt from the web, and the way it interacts with the web, framed a question in my mind - what would BBC News Online look like in print?