Internazionale have been in the news in the UK over the last week with the off-on nature of their tour - initially cancelled after the bombings in London. I've supported the Milan team from afar ever since Channel 4 first started televising Italian Football in the early 90's, but I've never seen them in the flesh.
I was tempted to go to the match at Crystal Palace, but sadly Inter sent a shadow of their first team squad over for the tour - and, of course, I already knew about that, and I already knew about this game a month ago, thanks to Inter's comprehensive web service.
This week the inter.it website was celebrating a tenth birthday.
Ten years is a long time in the life of a human being, and for the Internet, a decade is a grand old age. Inspired by Milly Moratti, Inter.it made its online debut on July 30, and Inter became the first football club to have an official website.
Inter provide an English RSS feed of their news page - and the level of news provided is amazing. There are almost daily updates of the number of season tickets sold, and this week not only pictures of the matches on their English tour, but pictures of the training sessions before the matches. Every picture is available for use by news agencies, and can be sent to a friend as an e-card.
And there is incredible detail. Last Tuesday the news was:
The Nerazzurri away on the England tour trained in Watford late Tuesday afternoon. Those who started last night's 2-1 win over Leicester did a light session of warm-up and athletic exercises followed by tactical and aerobic work, with shooting practice and a training match on a reduced-size pitch for the other players. Sinisa Mihajlovic did not train with his teammates after suffering a knee problem.
What a contrast to the service provided by the English team I support - Leeds United.
Visits to the Leeds United site invariably start with a massive slow-loading splash page, and last year their effort at e-commerce involved having to phone up the ticket office to get an authorisation number for your application for a membership card in order to finish filling in the online form. And that was before you could even begin to apply for actual tickets.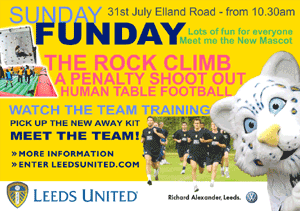 Subscribing to news from Inter is a case of sticking the feed URL in your aggregator of choice. Subscribing to news from Leeds United? That's £2.99 a month, you have to use their broadband console, oh and:
Unfortunately this service is not yet available for Mac users.
As football has become more and more of a business, supporting a team has become commercially more about brand loyalty. At the moment, Inter are doing a lot more to retain my loyalty as a distance fan than Leeds are. Given the relative paucity of coverage of the second flight of English football in the press it is likely that this year I will know more about Inter than Leeds. And everything I know about Leeds will be through the spin of the media, rather than through a direct channel of communication with the club, because I can't subscribe to their version of the news for free.
That can be really important - as for example last week Inter were able to issue an instant denial of a story that had been in the English press, direct to the fans:
With regard to an article in today's Mail on Sunday that includes sentences about Roberto Mancini, FC Internazionale categorically denies what was written. Roberto Mancini did not make such declarations about Edgar Davids, and the club confirms that the coach was not interviewed by the journalist who wrote the article, nor by the newspaper named above.
I'm hoping to visit the Stadio Giuseppe Meazza when I am in Italy early next year. Bizarrely it is going to be easier for me to organise a ticket for that over the internet than it currently is to organise a ticket to watch Leeds play at the QPR ground I can see from my office window each day.