Cardiff Singer of the World Audience Vote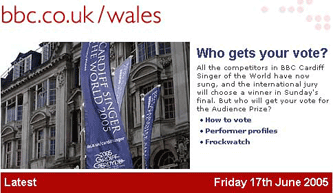 BBC Wales have opened their tri-media vote to determine the audience favourite in the BBC Cardiff Singer of the World competition. The vote closes on Sunday, and the announcement of the winner forms part of the final of the competition, which takes place on Sunday evening.
The audience prize isn't the main part of the contest, which is decided by jury, but the winner of the vote which is being conducted on SMS, phone and online, gets a £2,500 prize, and it is run jointly with the Wales Tourist Board.
I'm really pleased we have managed to pull it together for the team in Wales, because I have known both the producer and the developer who have been working on it for nearly all my time at the BBC - both good people - and especially because we have run into (undocumented) problems with setting up some previous votes based in Wales.
Still, it does highlight one thing, that our 24/7 broadcast world doesn't always work so well with our 10-6 5-day-a-week office culture in New Media. Just as with Radio 4's Today vote over Christmas, it will be me logging in on Sunday from a laptop at home checking up on the final stages of the vote, before getting the result declared at around 11am.
And who would have thought I would be involved simultaneously in the running of two 'high-brow' votes, with the In Our Time Greatest Philosophers Vote open for a while yet?