Over the bank holiday weekend the wife and I headed out to Canterbury for an overnight stay, and a visit to some reputedly haunted places in the town. Canterbury does in fact have regular ghost walking tours on a Friday and a Saturday, but sadly we went on the Sunday, and so with a little bit of internet research we rolled our own mini-tour of spooky hot-spots.
Our first stop was naturally the main attraction of the city - Canterbury Cathedral. Before we got there however we stopped at The Moat Tearooms on Burgate. This combines original 16th century features like the doorway and fireplaces with 18th century additions like the shop window. Inside it was very sweet, like a kind of crooked house, with exposed beams and all manner of nooks and crannies.
We made our way to the Cathedral via the city wall, walking through the gardens. The Cathedral and grounds have several spectres associated with them, including a nun and the ghost of Simon of Sudbury. Mysterious singing has also been heard, but the chief attraction is the ghost of Nell Cook. We found several accounts of the origins of the Nell Cook story, some making Nell male and some female. My favourite featured her poisoning her master and his mistress in a fit of jealousy, by making them a dosed Warden Pie for dinner. After the crime she vanished, and was subsequently found as a skeleton under some flagstones clutching a crust of the poisoned pie. Fortunately we didn't bump into Nell, either male or female, as legend has it that all who see him/her die within a year*.
I found the Cathedral itself a little disappointing. Although massive in scale, the layout is quite 'bitty', with lots of closed off areas. This means there doesn't seem to be a point where you can just look around and marvel at the size of the entire building. It was also massively busy with tourists, and had none of the reverential hush that often lends a spiritual air to churches. At something like the monument to the martyrdom of Thomas Becket, with its plaque commemorating that the Archbishop of Canterbury and Pope John Paul II prayed there together in 1982, I would normally expect to have solemn thoughts of how the whims of monarchy and divisions in the Christian world have shaped much of the history of Europe. Instead of which I was surrounded by a mass of school kids who seemed more interested in who was going to snog whom at the end-of-trip party. On reflection I believe they may have been having more fun than I was...
Our second stop was Sudbury Tower on Pound Lane. This tower forms part of the old city wall, and has claims to have a bedroom haunted by a grey robed man who tucks people into their beds at night. As we backed away from the tower to get a view of the upper windows, my wife noticed a sinister grey handprint on the inside of the window on the door. She wasn't sure it had been there when we were standing next to it, but I think in all balance of probabilities it had been left there by a dirty human hand, rather than anything spectral. I took a picture with my phone, which highlighted the one thing that really haunted me throughout our trip - I had changed bags at the last minute before we set out, and forgot to re-pack my camera.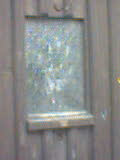 From Sudbury Tower we headed to the Marlowe Theatre. It is alleged that a ghostly figure can sometimes be seen loitering on the right-hand of the stage. We didn't go in, and the outside was mostly the realm not of spirits but of under-aged under-skilled skateboard kids failing to pull off tricks. All the while as we walked around Canterbury we kept our eyes peeled for the ghost of a former Mayor, who harmlessly haunts the city by riding around on his bike.
We then headed to Sun Street, where there is a pump that can sometimes produce red water, apparently marked by the blood of the martyred St Thomas. Sadly, we were unable to locate it, and as the rain began to pour down (not red coloured) we opted to head off to find the place we were staying for the night, The Kings Head. It was a really nice pub, complete with a friendly Old English Sheepdog, comfortable rooms, and a good breakfast in the morning. Our host even provided waiter service at your table for last orders, which was much appreciated.
That evening we ate an Italian restaurant called Pinocchio's. It was pleasant, although the service wasn't fantastic. However we were mortified that when I paid the bill I didn't get an opportunity to add a tip on my debit card - the smallest unit of currency we had on us was a twenty pound note, so we ended up scurrying out without leaving a tip at all.
Luckily, since I didn't have my camera, the walk back from the restaurant saw us looking across the old Norman Canterbury Castle into one of the most beautiful sunsets I have seen. Pleasing.
The next day we visited the Castle itself, which was one of the first built by the Normans during the 11th century invasion. Although only a shell remains, and it now seems to host the majority of Canterbury's pigeon population, it is still a striking construction, made mostly with smaller lumps of flint rather than large blocks. There is one staircase you can climb to get a view out on what would have been the third floor of the castle.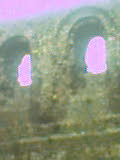 Our final stop in Canterbury was the last part of our haunted mini-tour - The Old Weaver's house. Here a lady in grey walks up the stairs. Since it is now a restaurant we stopped for coffee, to take in the ambience. In truth at one point I thought that there was more chance of us seeing the spectre than there was of us getting our coffees in time to drink them and then manage to head to Canterbury East in time for our return train to London. When they did arrive though they were lovely, and we supped quickly enough to got back into London with plenty of time for me to meet up with my dad and brother-in-law to watch West Ham's Championship Play-Off victory. But that, as they say, is a whole other story...


* This would have been somewhat inconvenient for my project plans, but at least the BBC has generous settlement terms for my wife should I "die in service". Not that I've told her that ;-)