Having purchased a new record deck the other week, I am in a position to play some of my vinyl for the first time in the best part of 18 months. Before I worked at the BBC I managed one of the branches of Reckless Records in Soho - so I've picked up a huge amount of albums and CDs over the years. I'm also taking the opportunity to digitise some of the things I only have on vinyl, and to have a bit of a clear-out.
There have been some shocks along the way. I used to buy european goth-electro records by a band called Clan of Xymox on 4AD. I've got both of their 4AD albums on CD, but not their final single before they moved to Polydor, "Blind Hearts". I was astonished to discover in retrospect that this actually just sounds like A-Ha. And what the hell happened to Anne Pigalle anyway?
Some of the records I own I don't have for any particularly good reason. For example I have a 1968 easy listening album called "Martin's Magic Sounds" simply because it is called "Martin's Magic Sounds", and I thought that was funny. I note now that the essay on the back is written by Ron Grainer, who composed the Doctor Who theme tune so astoundingly realised by Delia Derbyshire. [I'll probably just file this in my Doctor Who related records section instead of throwing it away]
Elsewhere I have an album by "Benny" called "Benny", just because as a kid we all used to mock Benny from Crossroads - so the word "Benny" just became inherently funny. I have an album by Eydie Gorme that I bought purely because she looks the spitting image of a Swedish girl who used to work at Reckless - I was going to post it to her, but never got around to it. And I have a sing up of cockney songs in my collection, because, after all, who wouldn't want one?
Of all the albums I have in my spare room for strange reasons, the most special is my copy of Colin Blunstone's "One Year" album. What makes this so special is that someone has used the back cover to write all over it in pencil how the album interacted with their love life in 1973. On the left-hand side of the back cover it says:
"NB This LP was felt by me in the early days of 73 & now I ask with a hand in my past that maybe you can join in the ever playing of his soft power so we may fall into his slow moving voice and in a moment two bodies will turn on a smokey a love the way we love us! xx 20th Nov '73"
Sweet intentions indeed - however on the other side of the sleeve it says:
"I called out to the dark side of the room and she stood with her school books by the fading floor dust. I held a white & eaten hand up, in the smoke of the dieing mummies. She sucked it off, in memory of Mr & Mrs Maybe, who now play with dead rats and eat green snakes. The big world is a dustbin of us & them and thin cunts!"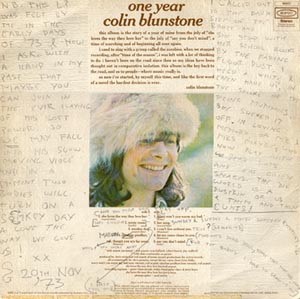 Meanwhile the track listing is individually annotated and corrected - 'Though You Are Far Away' is retitled 'While You Were Away', 'Smokey Day' has '[I HATE THIS ONE]' written next to it - and 'Caroline Goodbye' has become 'Marion Goodbye'. My favourite is track 3 on Side Two of the album - 'I Can't Live Without You' with the added note "True? [20 Nov. 73]".
Dan has been digging up some great posts about the way information about music is presented in a much less rich way in the digital media - and quotes Oliver Wang from The Morning News - Roundtable: Mp3 Bloggers
"One thing about used LPs, too, is that you find these personal messages at times-signed copies of band LPs, dedications on records sent as gifts. Digital media will never (well, never say never) have those qualities."
Oliver probably didn't quite have this kind of annotation in mind.
Then again, I guess the person who subsequently sold the record into Reckless Records didn't expect it to end up in someone's hands just because their annotations were hilarious.