Football, unencrypted satellite broadcast, and bloody huge on-screen graphics
When the BBC announced it was going to broadcast unencrypted on the Astra 2D satellite it opened up several cans of worms.
One of the most difficult was the fact the BBC's deal with the Scottish Premier League only allowed the BBC to broadcast live matches in Scotland, not across the whole of the UK. The only viable broadcast solution without encryption was to transmit the games on analogue only. This would be fine of course, unless there were areas in Scotland which could not receive analogue signals very well, and so had been persuaded as individuals or communities to invest in digital. Which of course there are. It is pretty self-evident from the BBC website's message boards that they are particularly aggrieved at having their football taken away from them. As is anyone else in Scotland who has paid their Licence Fee and is put out by BBC Sport Scotland putting them through hoops to get their footie.
I can sympathise - our house doesn't have a working analogue ariel, so before ITV came to an agreement with Sky about broadcasting on digital satellite I was listening to Formula One on the radio rather than being able to watch it. And if the BBC finds that something has to be broadcast in England on analogue only, I won't see it.
But this week there was hopefully a sign of the way that the BBC may negotiate regional sports rights in the future. I was happily sitting in London watching the Welsh competitive fixture against Serbia-Montenegro in the Euro2004 qualifiers on Welsh BBC digital station 2W in preference to England's friendly against Croatia.
Over the last week the start of the premiership season has given me ample opportunity to compare the way football is broadcast by the BBC, ITV and Sky. Next year ITV's "The Premiership" will be replaced by a renewed "Match of the Day". In the words of the infamous football cliché, I am "over the moon". And I trust they are not going to mutilate the screen like ITV currently do. I have never been a fan of the anti-DOG movement, but ITV's "Results and More!" call-to-action interactive banner is one on-screen graphic too far for me.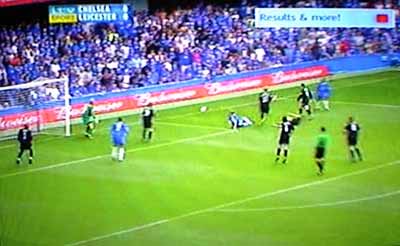 Of course I can press the 'back-up' button to remove it. Provided I do it every time the programme comes out of a commercial break. Unless, of course, I have recorded it. Which I do mostly in order to be able to fast-forward past the commercials and the inane post-match so-called expert analysis. So I am stuck with it.
The downside of losing "The Premiership" from our screens is that once ITV's Ron Atkinson isn't on saturday night telly anymore we will be deprived of him, as he did last night, calling referee Uriah Rennie "Uriah Hea...Uriah Rennie".