A culture hack for London's schools
This week I got to participate in a day-long "Culture Hack" with a range of people representing some of London's biggest cultural institutions.
"It's about teaching metadata to children"
Someone said this in my team at the Culture Hack day at Google Campus, and incredibly, it wasn't me. It was Nora McGregor, a Digital Curator at the British Library, and she had joined me on a table which included representatives of the Royal Institution and the English Folk, Dance and Song Society. Quite a diverse set of collections.
The aim of this particular Culture Hack was to generate some ideas to look at engaging secondary school children with the cultural collections in London using technology. It was run by A New Direction and Caper, and aimed at exploring themes in the proposal for a London curriculum, which would help children make better use of the cultural resources around them. The participants were an invited mix of representatives from London-based institutions, alongside some designers and technologists. As someone said, all the people in the room are "grappling with the same thing: young people, culture, the city and technology."
The morning session involved watching some video vox pops of school-kids talking about what museums mean to them, and then crafting a mission statement for our team based on an understanding of what they might want. We ended up with the question:
"In what ways might we inspire young people to investigate and discover their place in time?"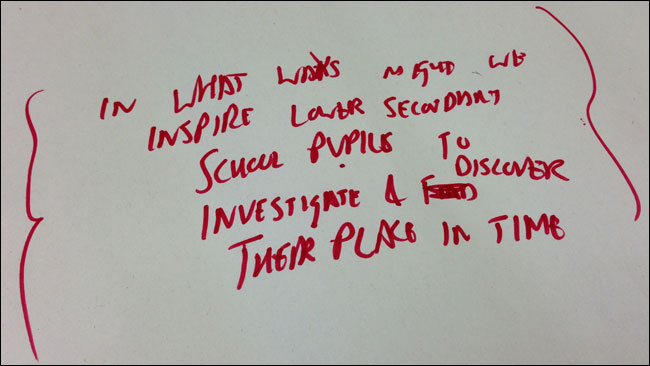 We decided that we wanted our idea to help kids get out of the strait-jacket of targets and league tables and top-down teaching. We'd found it a bit dismaying that the kids in the video were saying that they'd heard things like British schools were the worst in Europe and that "our levels have gone down". One video clip showed a kid saying he'd want something that had a focus on "the core subjects". I find it depressing that our children are so painfully aware of the mechanics of the education system.
The aim of the hack day wasn't to specifically build anything, but to generate ideas on paper. As you can imagine, plenty of Post-it notes were involved.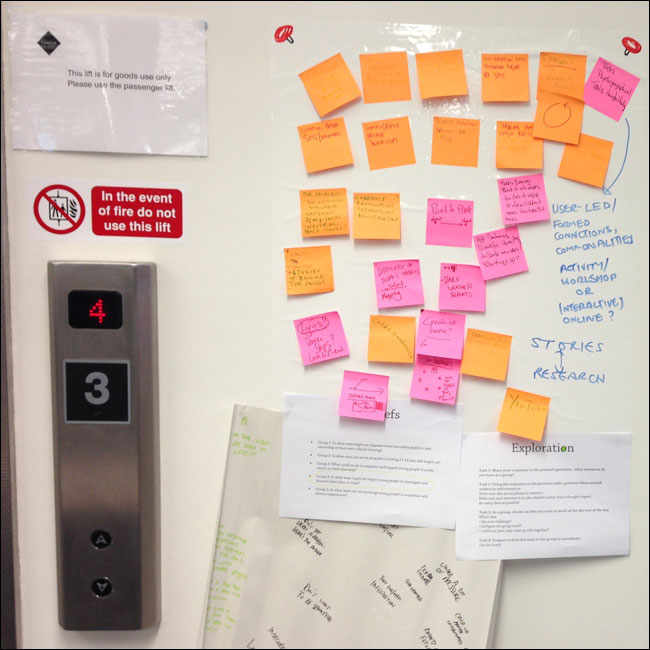 We ended up developing an idea that would allow children to explore the digital collection of a museum or archive by making lateral connections between a piece of media they supplied themselves, and items in the museum. A kind of "Six degrees" game that would give them a personal connection to some items in the collection, and output something fun and visual for them to print out or share digitally. We hoped it might demystify archive searching, and also add an element of serendipity into a school visit to an institution.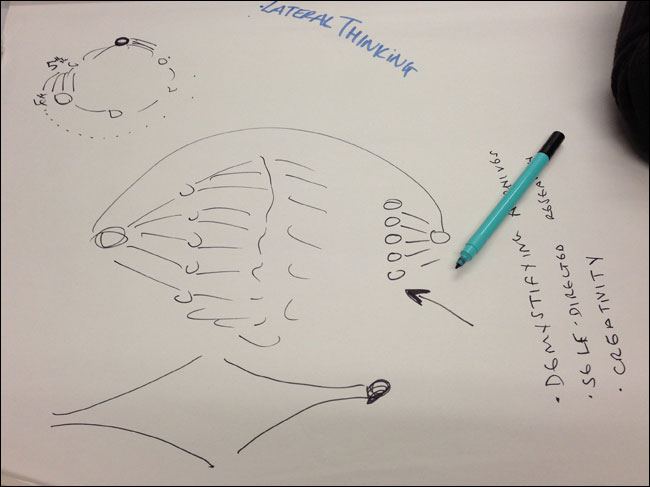 Faced with the challenge of helping them close the loop, we figured that the final step might be to perform a creative task like write a poem or short story or make a piece of video to link the items. Or the addition of an automagical "cheat" button, which drew on metadata relationships between items in the archive database to suggest possible connections.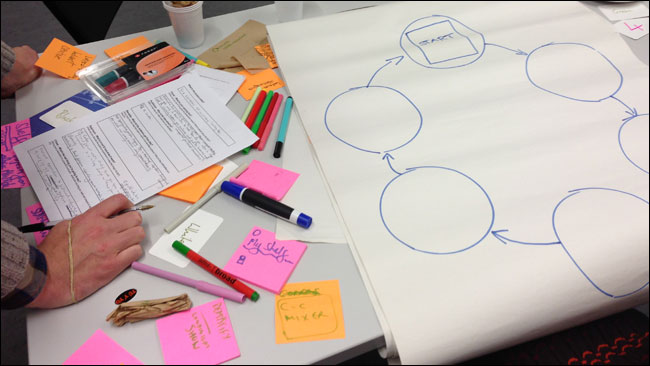 There were five groups involved in the event in total, and near the end, a group of visitors from interested bodies came to hear the presentations. Other ideas included a way of remixing and sharing the content in digital archives, a "social network of time", and the ability to build a virtual representation of your local neighbourhood, but decorated with virtual items that had been collected from museums and galleries. Another team proposed an interactive friend from the Victorian era who contacted modern-day pupils via SMS.
And I left with one regret. We never developed my idea of making a family history timeline. But with cartoon pirates.