All my EuroIA 2012 notes are belong to you...
If you subscribe to this blog via RSS or the email updates, you've probably been inundated with a flood of blog posts as I wrote up all the talks I saw at EuroIA in Rome. And probably didn't get a chance to read them all.
Never fear - now you can catch up with the whole lot, including my talk about "Responsive IA" in one handy, free, ebook.
It is available for iBooks, for Kindle or as a PDF, and features write-ups of talks by Gerry McGovern, Peter J. Bogaards, Birgit Geiberger & Peter Boersma, Raffaella Roviglioni, Jonas Söderström, Andrea Resmini & Eric Reiss, Jim Kalbach & Carola Weller, Hermann Hofstetter & Gregor Urech, Sara Wachter-Boettcher and Stephen P. Anderson.
You can also get a taste for EuroIA on the EuroIA scrapbook I've started curating on Tumblr.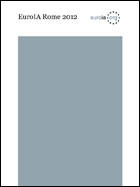 EuroIA Rome 2012
by Martin Belam
All of my notes from the 2012 EuroIA conference in one ebook, featuring coverage of talks by Gerry McGovern, Peter J. Bogaards, Andrea Resmini, Eric Reiss, Jim Kalbach, Carola Weller, Sara Wachter-Boettcher and Stephen P. Anderson
Available free for iBooks, for Kindle, and as a PDF