"Process & People" - Birgit Geiberger & Peter Boersma at EuroIA

I'm trying my usual frantic blog-it-as-it-happens thing here at EuroIA in Rome. I've already posted my notes on the opening session from Gerry McGovern, and Peter J. Bogaards talking about "wicked problems".
The third session was from Birgit Geiberger and Peter Boersma, looking at how relationships at work are key to delivering good design.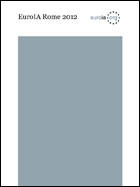 EuroIA Rome 2012
by Martin Belam
All of my notes from the 2012 EuroIA conference in one ebook, featuring coverage of talks by Gerry McGovern, Peter J. Bogaards, Andrea Resmini, Eric Reiss, Jim Kalbach, Carola Weller, Sara Wachter-Boettcher and Stephen P. Anderson
Available free for iBooks, for Kindle, and as a PDF
"Process & People" - Birgit Geiberger & Peter Boersma
"I like computers and databases more than people" - Peter Boersma
For someone who opened his talk with that statement, Peter was all about empathy for other people in the business. He stated that user-centred design alone is not enough to get great products made, because you will have to deal with other people in the business who won't have UCD as their top goal. He identified three types in particular.
The business manager
These people will control your budget and resources.You don't have to wear a suit but you need to be able to speak their language. He pointed to Geoffrey Moore's elevator pitch template, which helps you explain to the business why you want to improve the user experience or build a new product:
For (target customers) who are dissatisfied with (the current market alternative), our product is a (new product category) that provides (key problem-solving capability). Unlike (the product alternative), our product (describe the key product features).
Peter cautioned that you will be measured by the number you choose to be measured by. If you estimate you will design 15 complex wireframes, then during the course of the project you discover you need 20, the business manager will want to know why that increased. Instead he recommended choosing a metric you want to be measured by.
Why do business people decide to spend money? Because there's a treasure hidden in the landscape - more money - and your solution can help them get there.
He also, slightly cheekily I think, said show them slides with Apple products, because you can make pretty much any point (i.e. look at the development over time, look at the ecosytem, look at a product range) and everybody knows that Apple is really successful.
The strategy person
Strategy people know their brand inside-out. Peter showed a series of increasingly boastful adverts in a South African car magazine, to the point where Bentley stepped in with an ad that epitomised their brand - a rich looking guy in a leather chair giving everybody else the finger. He suggested that strategy people will really know their enemy, and so your design solutions need to make sure you are correctly positioning the brand against them.
The product manager
Peter had some great suggestions as to how IAs and UXers can help the product managers they work with. Helping them sort the easy changes from the hard, and the quick wins from the quality are useful skills to have. I always think it helps a UXer to have a sound technical background and understanding to do this sort of thing.
Roadmaps were another thing we could help with. Not in the sense of "next week we build x", "next month we build y", "six months we build z", but more in a sense of dividing all the UX improvements you want to do into different types, e.g. "easy of use" or "accessibility". Then make sure with each release you are addressing at least one issue in each of these categories. Over time this really drives forwards the overall UX of a product or service.
"Process & People" - Birgit Geiberger & Peter Boersma
Birgit looked at some of the ways that understanding how people work helps you produce great products by building better teams and improving communications. She explained the "Social styles model" developed by psychologist David Merrill. He found that people display consistent behaviours in their verbal, vocal and visual communication clues, and people can consistently describe them.
Social styles are behavioural patterns that others can observe, for example whether I say "I want" or "I would like", or whether you say "I" or "We" in a conversation. It tells someone a lot about the mental state of that person. People can be plotted into having one of four dominant styles. The axes of the chart are from "open" to "guarded" on one side, and from "indirect" to "direct" on the other. The combinations of these qualities mean that people can be basically defined as amiable, analytical, expressive or as a "driver". "Open" people are more "people oriented", "guarded" people tend to be task oriented.
You can get frustrated when people have a different communication style to your dominant one - for example asking yourself "why is this person making small talk about their family when I just want to get to the facts of thing x?" - but the key take-away from Birgit was that she urged us always to assume good intentions. If you get to a point where communication doesn't work, there is a good chance it is down to a clash of communication styles, not bad faith.
Next...
Lunch. And giving my poor typing fingers a rest for a little while. And then Raffaella Roviglioni on her unexpected path to becoming a UX designer.
This is one of a series of blog posts about the talks I saw at EuroIA 2012 in Rome. You can download the whole lot in an ebook for iBooks, for Kindle or as a PDF

"The dirty magnet" - Gerry McGovern
"Helping businesses to tackle a 'wicked problem'" - Peter J. Bogaards
"Process & People" - Birgit Geiberger & Peter Boersma
"An agronomist's unexpected path to UX Design" - Raffaella Roviglioni
"Responsive IA: IA in the touchscreen era" - Martin Belam
"'Stupid bloody system!': Bad IA in the workplace" - Jonas Söderström
"On beauty" - Andrea Resmini & Eric Reiss
"RITE: Testing and a business driver" - Jim Kalbach & Carola Weller
Building a coupon app for iPhone - Hermann Hofstetter & Gregor Urech
"Micro IA and content that travels" - Sara Wachter-Boettcher
"What am I curious about?" - Stephen P. Anderson

You can also download all my notes from the previous EuroIA in Prague as one PDF or as an ePub document.