A week in the life of Emblem
On Friday it was exactly three months since my last day at the Guardian. So I thought I'd post my first ever set of "weeknotes" so you could see what I'm getting up to as Emblem.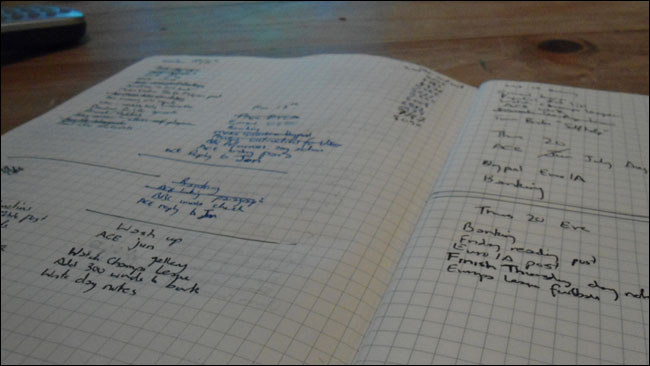 Monday
I started on Monday morning by heading to the Eat by Old Street roundabout. I did some admin for the business, and then settled down to write a blog post for the Guardian Media Network. I write for them fortnightly - and last week I was looking at Karen McGrane's recent passionate blog post about mobile content use cases being conflated with local use cases.
Then I headed to the Google Campus Café, which is one of my regular remote office haunts. I did a bit of work on a contract I'm doing for the Arts Council to do with The Space, the live and on demand digital arts service which is a partnership with the BBC. Then I concentrated on writing some of the "So you think you want to be a UXer?" book. I got chucked out of Google at about 11:30 because they were hosting a lunchtime event and they needed the room. It always amuses me to see people getting indignant about being told they can't temporarily use a totally free facility for a couple of hours.
I ended up in the Caffe Nero just near Old Street, and did some more writing before jumping on the tube over to Kings Cross. I bumped into a couple of ex-Guardian colleagues whilst queuing up to buy lunch in St. Pancras, and then I went and settled into the café at the British Library. I find the nomadic nature of the day helpful - certainly when the weather is OK anyway. The bits wandering in between sitting down provide me with a rest from the screen and the internet, and time to mull things over, rehearse talks or plan content.
At about 3pm I made my way to Kings Place, where I was meeting a couple of people to talk about some Guardian things and non-Guardian things, and also did a phone call to set up a meeting with a potential new client. From 5 o'clock I was setting up the room for the "So you think you want to be a UXer?" course. It runs from 7pm to 10pm, and has around 40 attendees. That is quite a long time to be running an event and doing most of the talking, so by the end of it I am always gasping for a beer. I invite people to join me, so then had an hour-or-so in the Lincoln Lounge with a few of the delegates, talking about UX, software, and on this particular occasion, whether a laptop was a good prop when trying to chat people up. At closing time a couple of the crowd wanted to go and find somewhere else to continue drinking, but I was shattered.
Tuesday
On Tuesday I worked with Trinity Mirror at Canary Wharf. I'm doing some new product development with them, where I am helping to run workshops to develop ideas, and then synthesizing those down to some suggested screens and user journeys. Senior Web Designer Chris Lam is then working a minor miracle in turning my scratchy diagrams into finished designs. On Tuesday I was working on two new ideas, and Chris was taking me through the final steps of an experiment we hope to be piloting in October.
In the afternoon I took a bit of time out to meet up with author Lloyd Shepherd, who I've known on and offline for years. We had a chat about webby stuff, book stuff, and how we both organise our working lives now that he is full-time author and I am working for myself.
During the course of day I also managed to add 1,700 words to the manuscript for my forthcoming "So you think you want to be a UXer?" book. I find it easier to write when I've just done the course and all the ad libs and usefully illustrative anecdotes are fresh in my mind. I was mostly working on sections talking about lean UX, prototypes, and user testing. How did I manage to write so much? By getting seats on the tube - and frantically hammering out the words with my laptop balanced precariously on my knee.
Back near home I worked on the Mirror diagrams a bit more, and fully intended to do lots more work in the evening, but ended up slumped in front of the Man City Champions League game with barely the will to lift the phone and make snarky comments on Twitter about Andy Townsend, let alone get any more work done.
Wednesday
On Wednesday I do the school run, and I dropped my daughter off at nursery at about 8:30am. Then I went and had breakfast in a local café, whilst finishing off some diagrams from the previous day, and reading RSS feeds. I took the train into Liverpool Street, working all the way, and then stopped in another coffee shop. I wrapped up some things for the Mirror, and carried on some planning for a new training day I've got in the pipeline.
Then it was off to Pulse Films to work on a project I'm doing with Matt Locke's Storythings agency. It is designing a prototype system taking various bits of feeds from other things, and putting them into one admin CMS. Dan Catt is doing the code and I'm doing the design - which is a very welcome re-pairing with someone I enjoyed working with at the Guardian. The Storythings team were mostly working on another project that day, but I sat in a sofa for a few hours in the bit that Pulse call "the pub", squirrelling away at diagrams.
At twelve I broke off to do a Skype/phone interview with Rachel McAthy about ebook publishing for the journalism.co.uk podcast and a written feature. I got bogged down at one point in telling an entirely irrelevant anecdote about some books my uncle gave me once, and I don't think my final shameless pitch of "BUY MY BOOKS!" made it into the final cut.
I left town at about 4-ish, as I often try to do. It means I can miss the rush hour commute, get a seat on the train, and use the journey as productive time. Once I get back close to home I'll usually stop off in either another café or a pub to do another hours work or so. It means that I'm close to home if I need to get there in a hurry at the end of the day, and I don't get stuck in any travel delays.
Just at the end of the day I got a call from someone who is trying to set up a training day with me as the trainer. They'd sorted out a date, but it clashed with a talk I'm giving. So back to the drawing board on that plan.
Much later, after dinner, reading bedtime stories, and watching University Challenge on Sky+, I settled back down to work. Sort of. Actually, when you blog and live online as much as I do, and if your hobby is mostly "messing around with computers", drawing the lines between what is work, what is play, and what is honing your skills is tricky. With Newsnight, some football and then Doctor Who on in the background, I mooched around on the web for a while. This included having a first pass at putting together the week's "Friday reading" blog post, by having a read through all the links I've favourited on Twitter over the previous few days.
Thursday
Thursday was a similar nomadic drill to Monday - starting at Eat near Old Street, and moving on to the Google Campus Café. I was working on some reports into usage of The Space. Once I got close to finishing them off I headed back towards home.
On the train back to Walthamstow I spent twenty minutes making sure that my talk for Mobile Media Strategies on Tuesday is ready. I've stopped using slides - mostly they were just screenshots and stock images, and I've begun to think that they are a distraction rather than a learning tool. I needed to decide quite quickly though whether there is going to be an essay version of the talk, or just a blog post with links to things I've previously written on the subject.
I got some feedback on one of the new training courses I'm trying to put together. It looks like it might be a go, so at some point I need to find time to flesh it out a bit further. I went and got a bit to eat, and then headed home to finish of the work on The Space. By 2pm I was finished for the day, and able to take my daughter out for the afternoon instead of working.
Friday
Friday was effectively a day off. Months ago I booked to go to "Here", a design symposium from the people behind It's Nice That. I was just interested in getting inspired. In fact, I even contemplated not taking any gadgets to the day at all - literally forcing myself to sit and listen without playing with the intertubes. But at the last minute I realised that a) I'd still probably need to keep up with my mail during the intervals, and b) that probably I'd want to blog about the day for either Guardian Media Network or here.
After the first couple of sessions, the lure of unfinished work was too strong. I headed off to the Science Museum and did some writing in their café for an hour, then looked at the Alan Turing exhibition. At that point, something seemed to have got in my eye, so I left and I shot back across town to Kings Cross, to meet up with Joanna Geary to discuss a future Hacks/Hackers London event, the future of journalism, and all that jazz.
Saturday & Sunday
On Saturday and Sunday I did not open my laptop.
That's quite rare actually - usually I will fit a few hours work into the weekend - but it was my daughter's birthday weekend, so that took priority during the day, and then I was too tired to even begin to think about work in the evenings.