Behind the scenes at the ITV News redesign
Design agency Made By Many hosted a fascinating glimpse behind the scenes of the digital relaunch of ITV News this week. The project began in May 2011 with a blank slate, and has delivered a very different user experience to the rest of British media.
The task wasn't just to redesign a website, but to redesign a newsroom.
ITV's newsrooms are a huge asset, but they were only geared to producing highly polished "just in time" material for broadcast TV. They were not set up to publish raw news 24/7. Made By Many saw how well live blogs performed for other news organisations, but William pointed out that the live format has usually just been "shoe-horned" into existing article templates. What would the live format look like if you could start the whole site afresh and apply the ITV newsgathering operation to it?
"As a user, I want to know what the world's talking about today"
The design of the ITV site is based on answering one use case - "As a user, I want to know what the world's talking about today". They opted to answer this question with a "stream" of stories, rather than conventional article pages. Jason Mills, Web Development Editor at ITV News, said they had worried if everything would work editorially as a stream, but they've found that pretty much everything can - even diarised events and midnight embargoes.
Significantly, their design ignores two use cases that news sites commonly attempt to answer - that of a specialist looking for in-depth information on a subject they are already interested in, and that of an editor who has too much content so wants navigation that mirrors the organisation to help them organise it.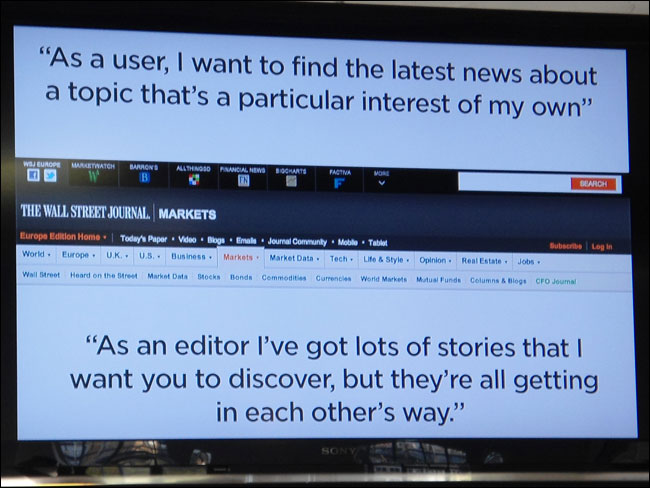 Building tools for people to use
William said that one of the informative things early on in the project had been observing the TV gallery whilst news was going out. You got a sense, he said, of all the elements that make up a TV news broadcast. Not just video, but graphics, captions, a script and directions.
Over the years I've found that by far the easiest way to build tools for people to use in their day jobs is to watch them doing their day jobs. Letting them play with prototypes of how those tools might change are a surefire way of finding out whether the system you are intending to build works for them.
A short video of the new ITV production tools in action included things like the ability to upload, crop and resize images within the browser, rather than having to fire up a separate picture editor. It is the kind of thing you would take for granted if you were building a web service from scratch, but that you might not consider if you've already sunk tens of thousands of pounds into legacy image editing systems.
I think my favourite quote of the evening was from William Owen:
"The better the production mechanism, the better the quality of what you can produce"
Or, as Julian March, Head of Digital Media for News, Sport & Weather at ITV, put it:
"We had to make it so impossibly easy that it was impossible for people to say 'No, I can't do this'"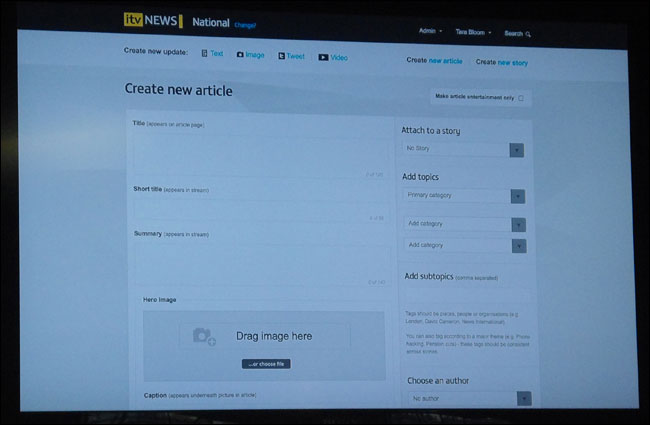 Prototyping workflow
I was struck that the team on the project had not just prototyped tools, but prototyped workflow as well.
As a trial they had tried to run the system themselves for the first time by following a couple of developing stories, and maintaining the "all news" stream. William said it turned out to be "a very stressful activity."
But prototyping workflow with live content also brought them a key understanding. Trying to cover an event like national protests against public sector cuts revealed a strength of ITV's newsgathering that had perhaps previously escaped attention. ITV News regional output is linear - all of the regional bulletins go out at the same time, and as a consumer that content is mutually exclusive. In a live digital stream though, a national story with multiple regional angles revealed that the newsrooms were generating a wealth of content that was of interest cross-region.
It needed a massive culture shift for the newsroom. "Enthusiasm for change grows with practice" William said, and pointed to one of the reviews of the site that they were most proud of. Nieman Journalism Lab, said the site "more closely resembles a reporter's notebook than a traditional story."
Jason described this process as asking a reporter to "open-source your notebook". ITV News journalists had already been keen adopters of Twitter, as it gave them a way to bypass the rigid broadcast schedule and break stories. They were used to publishing "what we know right now", rather than waiting to put together a 300 word write-through or a VT package.
Julian March explained that part of winning the argument had also been about selling the concept to journalists as "ITV's 24-hour News Channel" - with "in digital media" buried in the small print.
Just tell me if anything has happened
There was a telling slide from William Owen. In their pitch to ITV, Made By Many had shown screenshots of the BBC, Telegraph, Guardian and Mail Online homepages side-by-side, just after the Christchurch earthquake. "Take away the mastheads", William said, and "it was impossible to distinguish them from each other." Return half-an-hour later, and it was impossible to get a view of what had changed.
When the ITV site launched I blogged a pretty favourable review, but with a question mark over my future use of the site. I added a link to it on the home screen of my phone, but wondered how long it would stay there, as I couldn't ever imagine ITV being my first choice destination for news.
Three months on, and it remains there.
ITV still isn't my first choice destination for news, but after a period of being offline, as I emerge blinking into the connected light, hitting the ITV icon gives me a quicker overview of whether anything significant has happened than firing up the other news apps I have on that screen.
Part of that perception of ITV not being a destination for breaking news was, as Julian March explained, because the consumer doesn't see them as a 24 hour news operation. This is because the rhythm of ITV News has always been journalists working towards "this great TX orgasm that is their day's work". He showed a graph of where they used to reach their audience - four great big peaks representing morning, lunchtime, early evening and night-time TV programmes, and a graph with how they hoped to replace it by reaching the audience digitally between those set-piece moments.

And then there was more...
During the Q&A at the end of the talks I raised a concern that from what had been said, it sounded like the site might be on the verge of backing away from some of the simplicity that made it so different. Jason Mills had said that it was hard for people to find the "history" of a story in this format. The suggestion was that people were "bouncing" off the site quickly if they reached it via social media or search, and ITV wanted to show them "a bit more of what we have to offer."
I do sometimes wonder if we might just have to accept that news is a bit bouncy on the web - the use case is very different from picking up the paper or tuning into a bulletin.
An open approach
As for the rationale of holding a behind-the-scenes event like this, Robin Pembroke explained that this was part of an open approach. "We've borrowed a lot from open source libraries, we are linking out more, and you [other news organisations] are linking to us."
He hoped this kind of knowledge sharing event would help everybody in the sector.
"We like what we've launched, and our audience like what we've launched", he added, "but we are just setting out on a journey." He said he recognised that ITV were minnows in the online news space, compared to the established digital presence of brands like the BBC and Sky News, but that they'd made the move because of their public service offering. "News", he said, "is a core part of what defines ITV's presence."
Echoing that theme, Julian March said that news services have to link out more, and not pretend that their audience can't go elsewhere for news. "It's not North Korea" he said.