Metro comes out fighting for photographers' rights
I was genuinely impressed this morning with the Metro's double-page spread about photographers' rights. I love to see papers campaigning on issues of civil liberties and freedom, and I was particularly impressed with the fact that Metro produced a simple layman's terms explanation of photographers rights in a cut-out-and-keep format. You can find the online version of Etan Smallman's report here - "It's enough to make you snap". They don't seem to have made the advice available in anything other than a jpg though, so I've written it out below.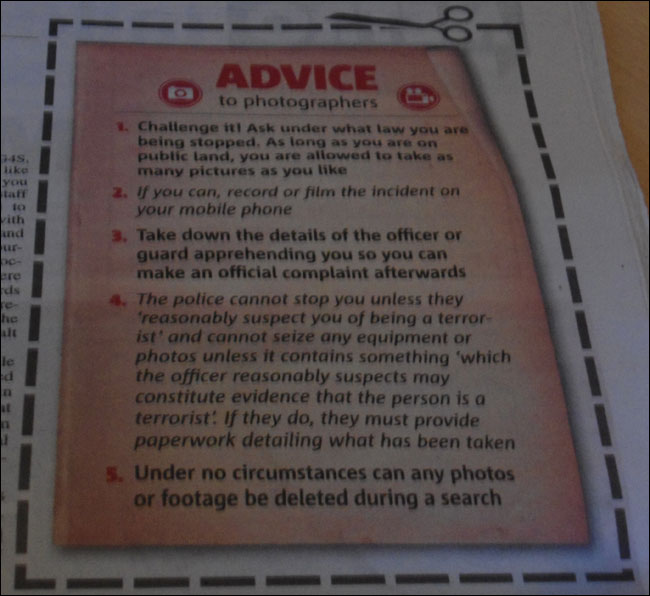 Metro advice for photographers
Challenge it! Ask under what law you are being stopped. As long as you are on public land you are allowed to take as many pictures as you like.
If you can, record or film the incident on your mobile phone.
Take down the details of the officer or guard approaching you so you can make an official complaint afterwards.
The police cannot stop you unless they 'reasonably suspect you of being a terrorist' and cannot seize any equipment or photos unless it contains something which 'the officer reasonably suspects may constitute evidence that the person is a terrorist'. If they do, they must provide paperwork detailing what has been taken.
Under no circumstances can any photos or footage be deleted during a search.