"A seismic shift in our referral traffic" - how the Guardian's Facebook app eclipsed Google
Since we launched it back in September I've been constantly monitoring Twitter for feedback and reaction to the Guardian's Facebook app. One of my favourite tweets asked this question:
"I wonder how much referral traffic The Guardian has lost from Facebook since they implemented their 'Social Reader' agreement..." — @daveeeeeed
Yesterday we answered that question in a talk by our director of digital development Tanya Cordrey. During the course of her speech at the Guardian Changing Media Summit she gave these numbers:
"In just five months, 8 million people have downloaded the app. Around 40,000 people are signing up every day. And once people have the app, they use it. In the past four weeks, more than four million people have used the app, many of them reading our content several times a day. But it is not Facebook app users alone that are engaging with our journalism. In the same period, over 8 million uniques came from Facebook directly to the Guardian."
She also showed this graph, which illustrates that last month "for the first time in our history, Facebook drove more traffic to guardian.co.uk than Google for a number of days, accounting for more than 30% of our referrer traffic." Social traffic has dipped back below search, but Tanya described it as "a seismic shift".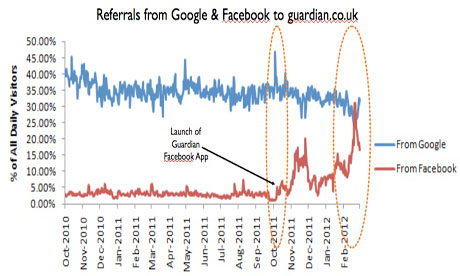 Whilst it is undoubtedly true that some individuals are dissuaded from clicking Guardian links within Facebook because of the app, the overall picture is one of greatly increased reach and distribution for our journalism. Tanya believes that "it is only a matter of time before [social] becomes the main driver of traffic to many core Guardian products."
You can read the full text of her talk online, and also the text of a talk I gave about the app at news:rewired in February.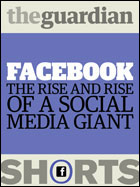 "Facebook: The rise and rise of a social media giant"
Edited by Martin Belam
In February 2004, whilst at Harvard, Mark Zuckerberg and friends created "The Facebook". What started as just a website for one university has become one of the dominant forces on the internet in the early 21st century. The simple idea of connecting people together into networks of friends sharing their personal details has made Mark Zuckerberg, on paper at least, one of the wealthiest men on the planet. This is the story of the rise and rise of Facebook, as told in six years of original journalism, writing and comment in the pages of the Guardian and the Observer.
"Facebook: The rise and rise of a social media giant" - £2.56 for Kindle & £2.99 for iBooks.