"Designing the design process: Rem Koolhaas and OMA" - Sjors Timmers at London IA
Last week's London IA was on the day of the SOPA protest Wikipedia blackout, but Sjors Timmer joked that fortunately he had already downloaded the page on Rem Koolhaas to get the biographical details he needed for his talk.
"Designing the design process" was Sjors' attempt to understand how Koolhaas could have been at the top of his game as a writer and an architect and founding partner of OMA for over thirty years. Sjors identified five parts of the process. Observation in the field leading to work in the studio, which generated models, which lived in an archive and were documented by books.
The archive and book production loom large in a study of Koolhaas' OMA. During the course of designing a building, many models are made. These are a physical way of storing ideas. Clients don't have to consult a large document to see what is proposed, because the models capture materials and colours as well as shape. Nothing is meant to be thrown away. OMA maintain a vast archive of their models, and so can very quickly re-visit the ideas that were generated during any particular project.
Sjors was interested how the classic design process of creating lots of potential solutions, iterating the promising ones, and then narrowing them down to a final candidate, had been twisted by OMA. He saw loops where the research was both the beginning and the end of a project - for example a book might be made at the conclusion of a project, or some projects might be commissioned because Koolhaas had already written about the architectural landscape of the area.
In fact OMA's documentation has itself been the subject of an art project - the "OMA book machine" - which bound and compressed all of the output into one super-massive display.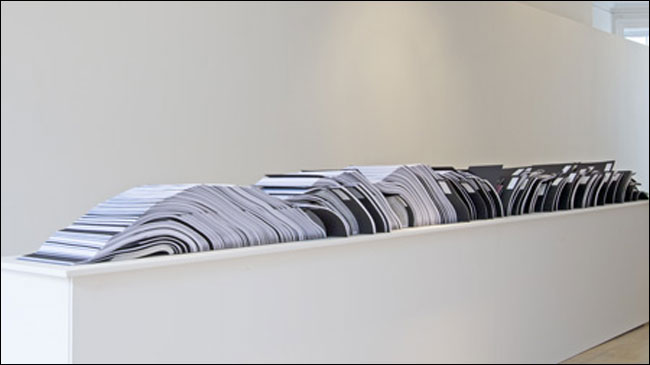 The OMA process seeks to avoid making decisions based on luck, randomness or who happens to have been longer in the business. A fresh approach is also valued. Partner Victor van der Chijs says:
"We want to refresh and renew our organisation on a permanent basis. We really want every year at least 25 percent of our people to be new. And we want them to be young, bright people. The idea [is] ... that we really need those people to feed in new ideas, make sure that OMA stays relevant and really understands what is going on."
Ben Bashford asked if they took much account of feedback once the buildings were "lived in" - and Sjors pointed out a video he'd seen at the OMA/Progress at Barbican which interviews the housekeeper of a building the company designed. In in, she is bitterly complaining about the number of leaks in the house and that it is difficult to clean.
The archive was one of most fascinating things to me. The Netherlands Architecture Institute apparently sent an archivist to OMA to catalogue their archive, with a view to purchasing it and preserving it - instead the company hired the archivist once he had completed his study. I asked Sjors how he thought we could replicate this digitally - to have all our ideas on permanent display to recall at a glance. One person I spoke to afterwards suggested "metadata" was the answer - but I don't think that comes close to answering how we could almost effortlessly browse through decades of our preserved ideas.
Sjors has published his slides: "Rem Koolhaas – designing the design process"
"OMA/Progress" at the Barbican
Inspired by Sjors' talk I went to Barbican to see the OMA exhibition at the weekend. For a subject matter that deals with something as large-scale as buildings, it has an immense amount of micro-detail in it. The most striking exhibit is a display of 3.4 million images harvested from the company servers, which are displayed in a constant blur. Even with the rapidly changing image, it takes 48 hours to loop around the lot of them.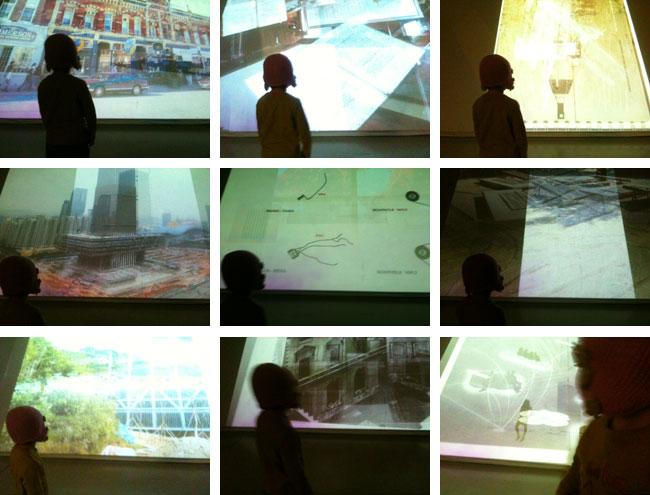 OMA/Progress is on at the Barbican Art Gallery until February 19th.
Next...
The second talk at last week's London IA night was from Alexander Baxevanis speaking "In praise of side projects". I'll have my notes from that soon.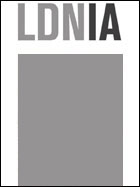 "London IA: Notes from the talks"
Martin Belam, foreword by Ann McMeekin Carrier
London IA is a network of designers, information architects and thinkers. Since 2009 the group has been holding regular meetings featuring talks about UX, or of interest to UXers. This ebook is a compilation of my notes from those evenings, featuring talks by Andy Budd, Giles Colborne, Cennydd Bowles, Claire Rowland, Jason Mesut, Ben Bashford, Chris Heathcote, Dan Lockton, Relly Annett-Baker, Michael Blastland, Margaret Hanley and Richard Rutter amongst others. Topics covered range from ubicomp to psychology, from learning how to sketchnote to how to write a UX book, and how to improve digital design through diverse routes like copy-writing, designing for doubt, learning from music technology or taking care of typography.
"London IA: Notes from the talks" is available for Kindle for £2.47.