Editing the Guardian's Facebook ebook
Over the holidays the Guardian published the second ebook collection that I have edited for them. Following on from "Who's Who: The Resurrection of the Doctor" I've tackled "Facebook: The rise and rise of a social media giant."
Here are some notes on the editing process of the book.

Repetition, repetition, repetition
One of the reasons that you need an editor is the form of news itself. You can't just sling a load of articles into an ebook template. Just as with the Doctor Who ebook, whilst editing the story of Facebook, I came across the same lines again and again. Stories written for newspapers often seem to take as their starting point that the reader has very little knowledge of the background of a topic. By the end of the process, if I'd been given a pound for every time I'd read a sentence explaining that Mark Zuckerberg had started the site in a college dorm at Harvard, I'd be as rich as...well...as rich as Mark Zuckerberg.

Repetition, repetition, repetition
See what I did there?
Another issue I had to deal with when editing the book is duplication of coverage. This can happen because a story will be covered by both the Guardian and the Observer, or because a breaking development might get a web-first blog post treatment, then a more considered write-up for the paper. We also, naturally, commission comment pieces around the biggest topics that we are covering. When compiling an ebook, you don't want to include all of these.
In some cases it means dropping content - I ended up favouring the Lizzy Davies news piece about rape joke pages on Facebook over Cath Elliott's comment piece on the same topic. That kind of decision is a shame, because I thought Cath's piece was very powerful, but the book didn't need a news and a comment piece about it. A comment piece often doesn't have enough news context in it to make it work as a standalone article in an ebook which might be published long after the events.
Elsewhere in the book I've taken a different route by interpolating attributed quotes from Guardian bloggers into an otherwise straight news story - for example by adding some great quotes from this Tim Jonze blog post into this Helen Pidd piece about the Rage Against The Machine Christmas number one campaign.
Timing is everything
When editing a book with a topical subject, timing is everything. I was lucky because other commitments got in the way, and I ended up delivering the final draft a couple of weeks later than expected. And during that delay, the settlement between the FTC and Facebook over 'unfair and deceptive' privacy claims was announced. Brilliantly for me, that then lent a new perspective on some of the statements that various Facebook spokespeople had made in articles about privacy and the trustworthy-ness of the company.
I've also, fingers crossed, got the book into the stores before any public offering of stock in the company, an event that would probably generate another chapter worth of immediate analysis as to whether this is in fact the high water mark of a second dotcom bubble.

An astonishing impact
Thanks to the comprehensive metadata on the Guardian site and in our API, compiling these books doesn't mean wading though back-copies of the newspaper or a librarian's index of content. Our "combiner tags" function means that it is quite easy to combine the Facebook tag with the tone interview, or the keyword privacy or games or Egypt to get the content at the intersection of those topics.
It did bring home to me what a huge impact Facebook has had - almost any topic or angle I thought of, there would be content available to evaluate for inclusion in the book. In fact, the longest draft was over twice the length of the finished item at 110,000 words.

Things change during editing
It might seem an obvious statement, but things change during the editing process. I set out with a plan for five chapters, which included one devoted entirely to examining the movie The Social Network. Eventually I got to a point where I realised that as good as something like Nev Pierce's interview with Justin Timberlake is, it doesn't belong in an ebook about Facebook. One about Justin Timberlake maybe, but not this one.

Facebook, Egypt and the "Arab spring"
The last chapter in the book is about the role of Facebook in the "Arab spring". In truth, widened slightly to include Twitter as well, you could probably do an entire Guardian Shorts ebook just on the topic of social media in the region in 2011. I think it makes a striking contrast to some of the earlier bits of the book which are about casual gaming, Facebook faux pas by sportsmen, and organising a booze-up on the Tube to defy Boris Johnson's alcohol ban. The chapter begins with a feature from 2008 about the torture of Ahmed Maher for starting a protest group on Facebook, and concludes with a piece by Peter Beaumont from February last year which finishes:
"For me it is a phenomena best summed up by an encounter I had with a group of young Tunisians I met during a demonstration on the day after my arrival in Tunis. I asked them what they were photographing with their phones. 'Ourselves. Our revolution. We put it on Facebook,' one replied laughing, as if it were a stupid question. 'It's how we tell the world what's happening.'"
That sure puts using Facebook to upload some drunken party pictures into context.

Immersed in Facebook
Editing the book means I've been pretty immersed in Facebook for the last few months, having also worked on the Guardian's Facebook app. It was incredibly useful, whilst I was on that project, to be going through the archives to keep a sense of perspective about Facebook's track record as a company and about public reaction to any changes to the service.
I think my favourite piece in the book is this article by Mark Sweney from September 2006. In it, Facebook is facing a revolt from hundreds of thousands of users who call a new feature "spooky and stalker-esque".
The feature in question?
The news feed.
As I now say in my talks, it is almost impossible to conceive of a Facebook where you couldn't see what your friends were doing on the service. I mean, what were people doing with Facebook in 2006? Signing up to the service, posting some stuff to a profile, and then sitting staring at the screen waiting for something to happen?

Next...
I've begun work on a third ebook for the Guardian, this time involving subject matter that sees me delving back into the far-flung corners of the newspaper archive, and wrangling with the quality of the OCR and all the fun that entails...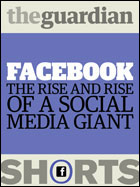 "Facebook: The rise and rise of a social media giant"
Edited by Martin Belam
In February 2004, whilst at Harvard, Mark Zuckerberg and friends created "The Facebook". What started as just a website for one university has become one of the dominant forces on the internet in the early 21st century. The simple idea of connecting people together into networks of friends sharing their personal details has made Mark Zuckerberg, on paper at least, one of the wealthiest men on the planet. This is the story of the rise and rise of Facebook, as told in six years of original journalism, writing and comment in the pages of the Guardian and the Observer.
"Facebook: The rise and rise of a social media giant" - £2.56 for Kindle & £2.99 for iBooks.