"Neither TV station nor repurposed website" - Sky News app for the iPad
My first impressions of the Sky News app on iPad have been very positive. They've promised that it gives "new ways to deliver news to our users", and it is a very different visual approach.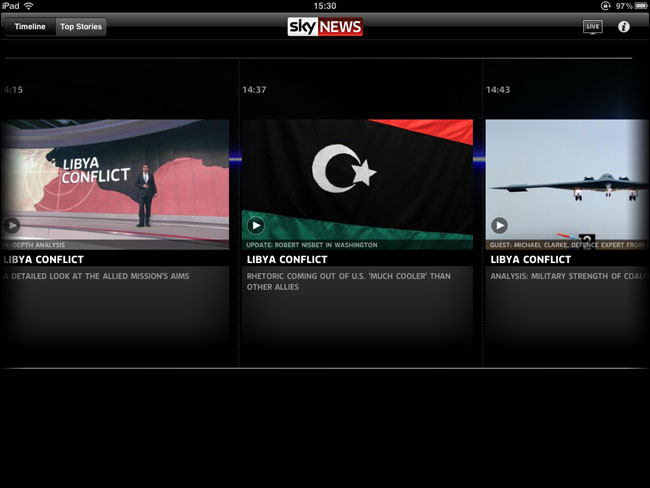 There are a couple of really nice interaction touches in the app, not least of which is that you can browse around without interrupting the current video playing. Only a couple of buttons stop playback. Mostly, if the video you are currently viewing features anywhere on the screen you've moved to, it continues to play in situ. If it isn't, it shrinks down to play in miniature at the bottom right of the screen.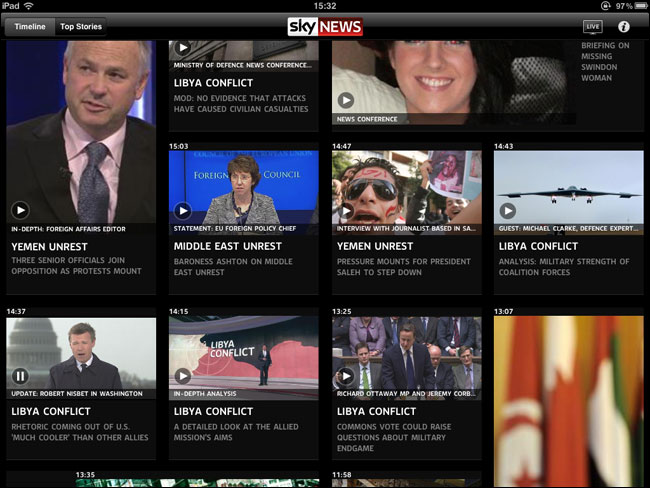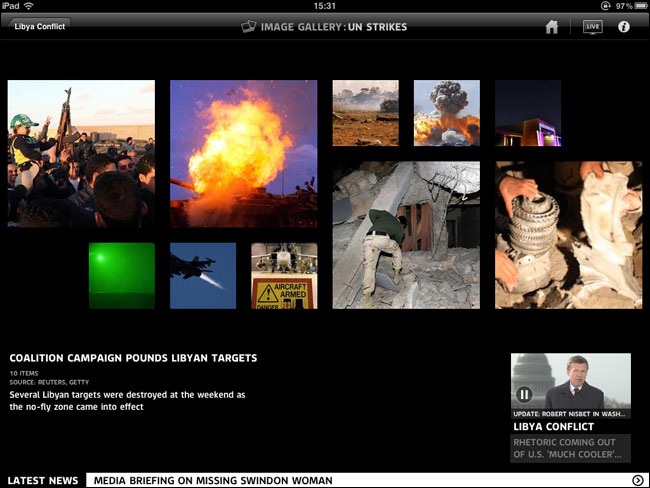 Another interesting approach to navigating through news is the "back story" button. If tapped whilst playing a video, it takes you to a screen with related content. In the case of the attacks on Libya, this appears to be a page with some production values on it, i.e. the themed graphic at the bottom of the page.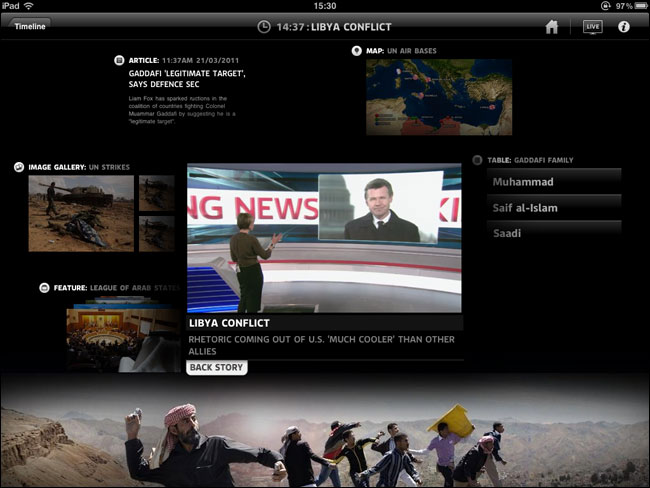 With something more of a regular feature, like the newspaper review, this produces a less-adorned list showing the slot in reverse chronological order.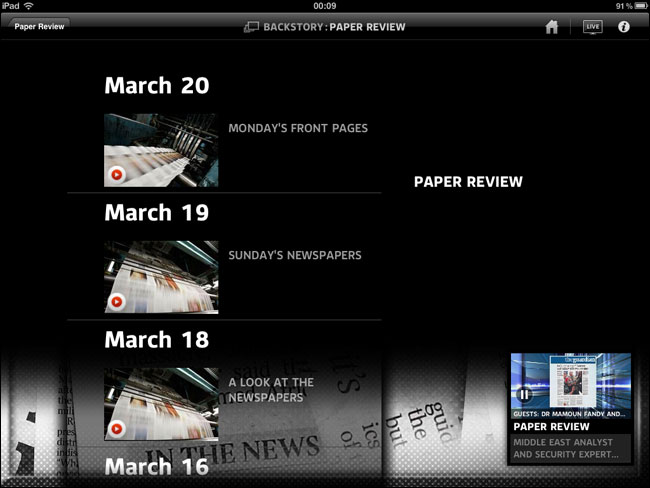 I'd be fascinated to see the metadata going on behind the scenes at a production level to feed into the app, or whether this is all being overseen by people - a "dedicated editorial team" is mentioned in their publicity material.
One thing that I was going to say about the app, was that I was impressed with the way they hadn't tried to replicate their website in an app format. As Leisa Reichelt observed during her talk about "Strategic UX" at London IA last week, one of the toughest challenges for a business can be to lose the "fear of positioning", and stop trying to be all things to all people. I thought that Sky News had avoided that pitfall, and built an app for people who wanted to watch the news and nothing else.
Actually, it turns out that isn't quite the case, as yesterday I encountered a text article for the first time. It doesn't make the video features any less compelling, but I had thought that the team had opted to ditch text news altogether, which would have been a very brave product and design decision.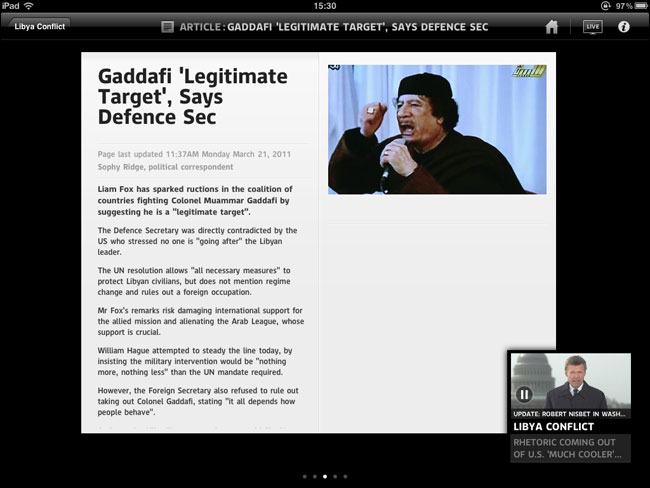 Visually the app is an improvement on that of their nearest 24 hour news competitor in the UK, the BBC News app, which concentrates on a thumbnail image menu of text news stories, relegating the video news function to a small button that triggers a dialogue box that kind of shouts "you shouldn't have clicked me".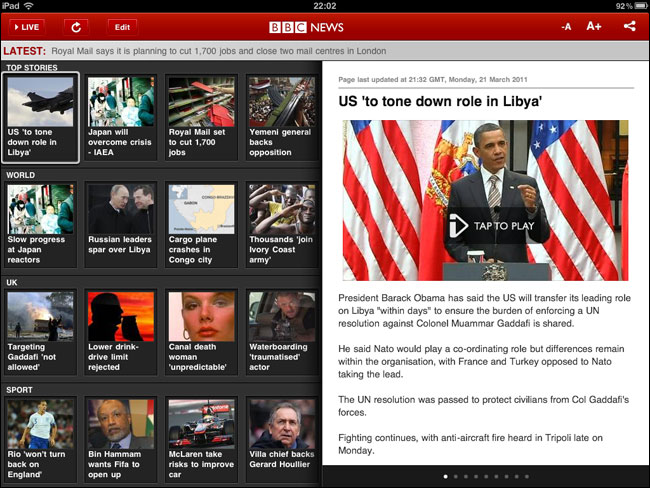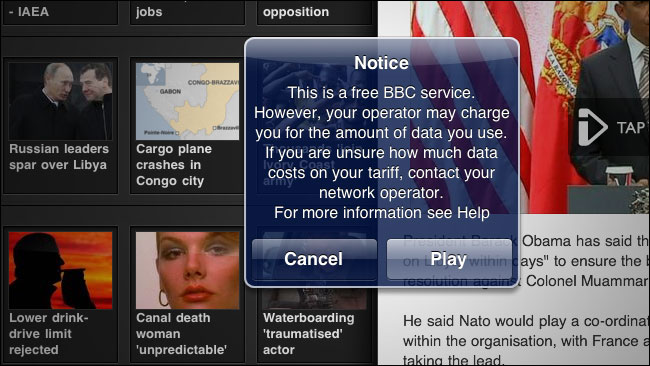 In the end I'd say that Sky have delivered something that isn't a TV station on the iPad, nor is it a website repurposed for a different screen size, and I have to commend them for that. I've previously said that we are in the web's equivalent of "the animated gif years" when it comes to news touchscreen tablet design. I think that with this app Sky News have thrown out a significant design challenge to other video based news organisations.