"Social media within the enterprise" - Gordon Vala-Webb, Helen Clegg, Hugo Evans & Angela Ashenden at Online Information 2010
Last week I was presenting at the Online Information conference in London with my colleague Peter Martin, where we gave a talk on "Mapping the Guardian's tags to the web of data". As well as moderating that session, I got to attend a few other talks during the course of the event. Here are my notes from day 2, and a session entitled "Social media in action: driving forward information management and knowledge management", which looked at implementing social media tools within the workplace.
Gordon Vala-Webb was presenting a case study on 'Bringing brains together at PricewaterhouseCoopers Canada' through social media use. The intranet has a conversation space, and they've also recently branched out into having an internal TV channel. He said that the power wasn't connecting people digitally to people they were already connected with. They already have rich and deep connections with colleagues in the same office. The power was in forming those same type of connections with people who have common business interests across different departments and offices.
There was also clever re-use of information that the company already held. Previously it had relied on people filling in their own staff profiles, and Vala-Webb pointed out the contrast between people's enthusiasm for filling out an intranet profile about themselves to filling out updates on Facebook. They are now planning to use 60 data points from their HR database to automatically generate rich online profiles for staff.
He was keen to stress that you shouldn't just be doing social media in the enterprise for the sake of doing it. Pick a target group he said, for example new starters. PwC have a wiki where people can list acronyms and their definitions, because, Gordon Vala-Webb observed, "Only the U.S. Military has more acronyms than PricewaterhouseCoopers". These definitions are then lifted from the wiki, and put as the number one result if someone searches the intranet for the acronym. It helps people get to know the business and the lingo quicker when they start at the company, making them more productive and more likely to feel welcomed.
Helen Clegg then spoke from A.T. Kearney. She explained how they had been desperate to get away from the dusty old world of massive 'shared drives', and email being the place where knowledge went to die. They had used a wiki to good advantage. It wasn't just a case of a free-for-all though, they had held one-to-one training sessions with people to help them contribute to the wiki, and thought that wiki gardening was just as important as content creation. There was an element of dog-fooding going on as well, since they sell the idea out to their clients, and need to be sure that it works.
Her colleague, Chief Information Officer Hugo Evans joined the session via a pre-recorded video piece. He explained in the end that this had been more about change management than about technology. There is a default assumption that when you introduce social media into the enterprise, everyone needs to be sharing everything all of the time. Looking at the 90/9/1 rule of internet particpation, they felt that for enterprise social media to work, 80/15/5 was a more appropriate split. After all, he said, people are at work to do things and make money for the company, and so you don't want a social media policy that actually gets in the way of doing that, because people are too busy sharing to actually do any of the money-making.
The session wrapped up with a talk from Angela Ashenden. She had a great honeycomb diagram showing the different bits of social media software that an enterprise could invest in.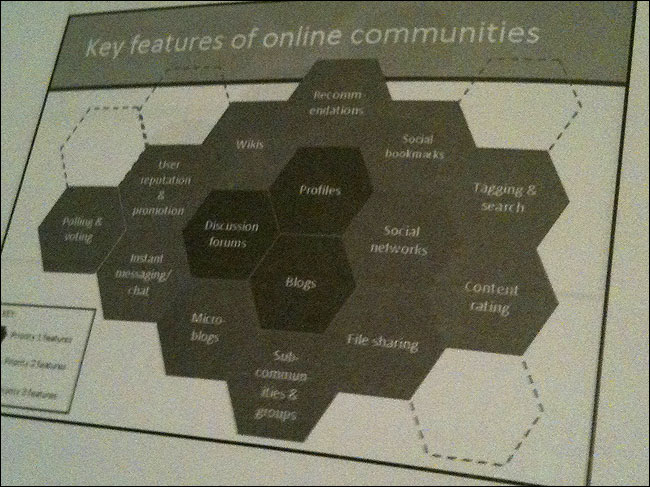 She thought the three that were absolutely essential were discussion forums, blogs and user profiles. She also explained that when getting social media embedded within an organisation there needed to be a 'facilitator' or 'host'. She didn't think this was a full-time role, although in the initial stages it would take more effort, but did stress that the person shouldn't just be a full time 'community' person - they needed sufficient domain expertise to earn respect.
Two common themes came out across the talks. The first was to do with governance. Although they all felt that some governance was needed, there was a feeling that often an objection to social media within a business is a fear of 'what might go wrong'. The point was made again and again that if you have hired smart people who know how to behave in a business environment, then you should view the risk as being about the same as people using the telephone inappropriately.
The second was, as ever, that this was not so much about technology, as it was about people. In the end, putting some software on a server somewhere is trivial, but encouraging the cultural change to get people to use it as an everyday part of thier work takes considerably more effort...
During the course of this week I'll be blogging some more of my notes from the Online Information 2010 conference, starting with Iain Fletcher's talk on optimising search technology.