London 2012 Olympic ticket prices accessibility failure

I see a lot of talk about datajournalism that emphasises 'the story in the data', but we don't always hear a lot about the newspaper 'spin' in the data. I mention this because on Saturday I noticed two newspapers take exactly the same set of figures, and run two totally different stories. The Mail had a haughty 'it costs £70+ per second to watch Usain Bolt, and tickets for the set-piece events cost more than Wimbledon or the FA Cup Final' whilst The Sun had 'Brilliant, lots of cheap tickets'.
It wasn't the prices or the coverage that really disappointed me about the London 2012 announcement though, but the format.
If I recall correctly, part of the reason we won the bid was because of a promise of accessibility, and giving the Paralympics a high profile. Indeed, the accessibility statement on the official games website says:
"The London 2012 Olympic Games and Paralympic Games are for everyone, everywhere, regardless of ability, age, language or background. Our website is one of the main ways that people will find out about and share the excitement of the Games, and we want to ensure that everyone can use it."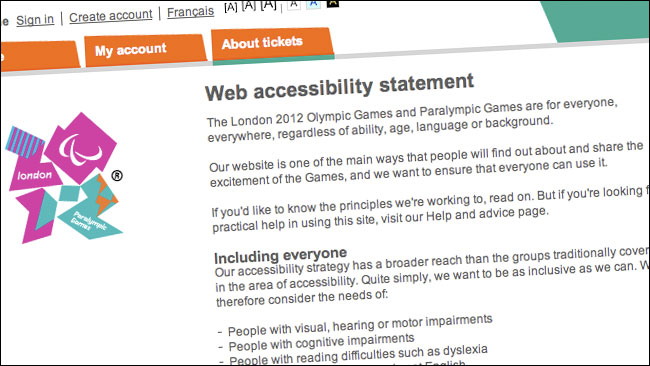 Now a long list of numbers is the very definition of tabular data, easily represented in an accessible HTML <TABLE> structure. And yet the ticket prices for the Olympic games were only made public as a PDF file...