Strictly Championship and below for me this season
I'm experimenting with the mental discipline this season of trying to ignore the Premiership.
I've decided to take a break from the over-paid players who failed to perform on the highest stage, the relentless hype, the blatant financial racketeering and the continual moaning of fans who find being part of a de facto monopoly on trophies and Champions League qualification to still be 'unacceptable' and show a 'lack of ambition'.
Instead I'm going to put my focus on the Championship and below - Leeds United, and my local League One clubs Leyton Orient and Dagenham & Redbridge.
By coincidence, guardian.co.uk last week launched the Football League blog.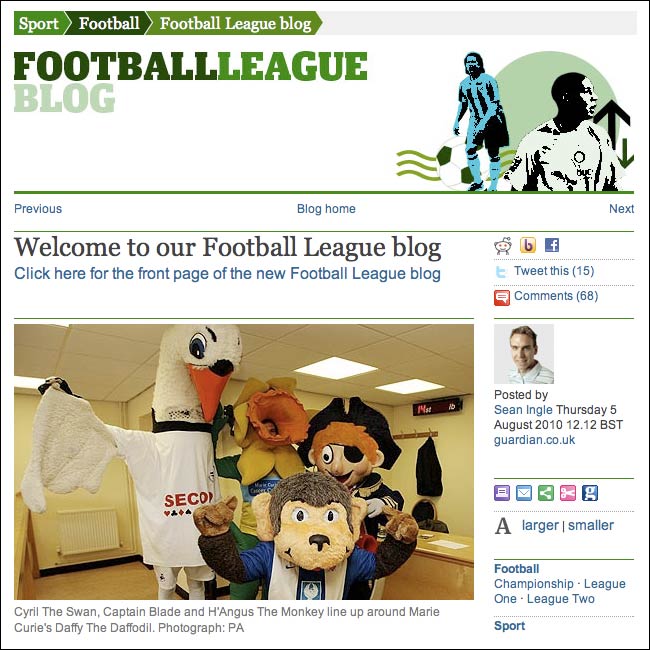 In the opening post Sean Ingle made a very frank admission:
"One of the things we've tried, and largely failed, to do on guardian.co.uk/sport is attract a significant audience for our Football League coverage. We suspect it is out there - after all, according to figures released at the end of last season, the Championship was the fourth-most watched league in Europe in 2009-10...but in the six years I've been sport editor we've consistently failed to find it. The Football League blog is our latest attempt to get it right."
As well as explaining that a wide range of staff from across guardian.co.uk with an interest in the lower leagues will chip in, the initial post called for some thoughts from our community on what they would like to see, and the answers make sobering reading for anyone concerned with the economics and reputation of news.
"Great idea to try and commit more to coverage of the football league. Surely a regular blog is just the minimum? How about improving post-match coverage with more extensive reports etc?" - youcantalan
"Really I just want to see more coverage than just the odd match report, interview or transfer rumour." - Mahogany
"If its web traffic you're measuring the success by give it a few weeks to allow people to find the blog - I only stumbled upon it after searching for a League One preview otherwise I would never have considered a national English newspaper would have any interest than anything that's not right under its nose..." - Britrock
"As the print media and major websites have neglected life outside the Premier League, a terrific network of blogs and unofficial websites has developed, which are now relied upon to the extent that many football league fans wouldn't even *think* to check sites like the Guardian for football league stories. That shows how far there is to go, but I wish you the best of luck." - oxfordorn
One of the overwhelming themes coming through the thread was that people wanted more frequent in-depth quality coverage of all 72 teams in the league that goes beyond agency copy match reports - something with huge financial implications, and beyond the reach of a national newspaper. But also a huge disillusionment with the way that our mainstream media in the UK has totally neglected coverage of our football league infrastructure in favour of relentless celebrity-driven coverage of the top flight.
I'm looking forward to seeing how the blog develops. The team hope to source content from The Observer Fans Network and leading blogs and fanzines around the country. The challenge is to produce a compelling proposition of interest to fans of all the clubs, that will cause them to spend time at the Football League blog rather than on club specific forums and sites.
Rather like my experiment with ignoring the Premiership, it should be interesting to see the results.