Pundits and predictions...the World Cup according to the English press

During the post-mortem of England's World Cup campaign we heard lots of calls from the press to sack the manager, reform the FA, change the way we train our youngsters, and to ditch the so-called 'golden generation'. We didn't hear many calls for the wholesale sacking of the sports writers and football pundits in the press who had deluded the nation into thinking we could actually win the thing...
This was brutally exposed before the game against Germany, when the News Of The World's Dan King was predicting 'England will beat Germany and Fabio Capello may opt for a 4-5-1 formation' and Steven Howard, Chief sports writer at The Sun was writing "Why we'll beat the Germans". John Ley at The Telegraph was equally sure:
"Prediction: The time has come for England to beat Germany, and do it in regular time without penalties. England will win."
Drafting in ex-footballers didn't seem to be much help either. Much is made of Fabio's salary, but new Liverpool manager Roy Hodgson in The Telegraph was just one of many of the football establishment being paid handsomely to spread their wisdom in our newspapers. None of whom could predict that Germany were destined to out-play and out-class England.
Frustratingly for The Guardian's Sean Ingle, one journo who had made an astonishingly accurate set of predictions (Spain-Netherlands final, Uruguay going far powered by Forlan and Suarez, England's 2nd round exit, and video replays being a topic of some controversy), it was the octopus who made the front page of The Guardian website.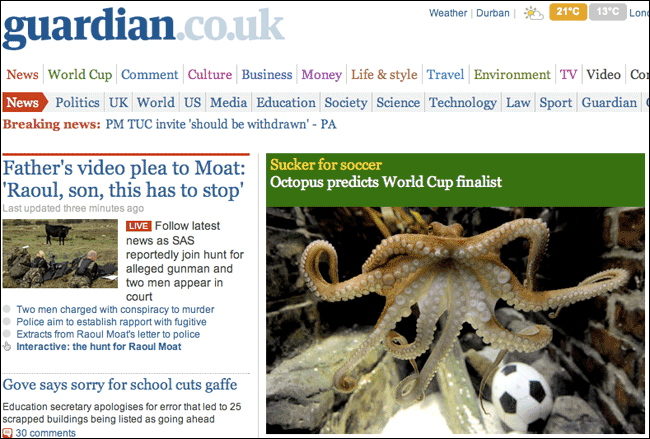 A tournament like the World Cup always brings out the best and the worst of our press. There were some great front pages, and also some lousy tired old war cliches when it came to England facing Germany. This short video highlights how our newspapers went from calling the draw "E.A.S.Y.", to telling the players "You let your country down".