Some Guardian links you may have missed...
Whilst I've been busy having a blogging holiday, watching the World Cup, and fixing up the server that powers currybetdotnet (badly), lots of things happened on the web that I would normally link to. Here is a quick summary of some things of note on The Guardian site that I would have pointed to.
Alistair Dant on how we built the Twitter replay interactive
One of the highlight's of our interactive World Cup coverage was the ability to 'replay' a match, viewing a stream of words that reflected how people were tweeting during the game. My colleague Alistair Dant wrote this detailed and excellent Inside Guardian blogpost delving behind the scenes of how it was done.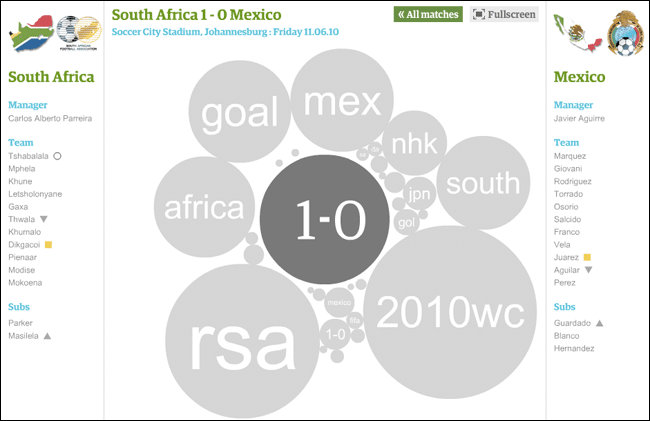 Phil Gyford's "Today's Paper" app
Phil Gyford used the Guardian Open Platform API to build an app that allows you to easily flick through the articles that make up the day's printed edition of The Guardian or The Observer. In his quest for a simplified interface he has ditched most of the navigation and 'clutter' of a news website. He also wrote a very thoughtful blogpost about why he built it. I may have been taking a blogging holiday here, but as Information Architect for guardian.co.uk I wrote a post looking at some of the issues it raised for the Open Platform blog.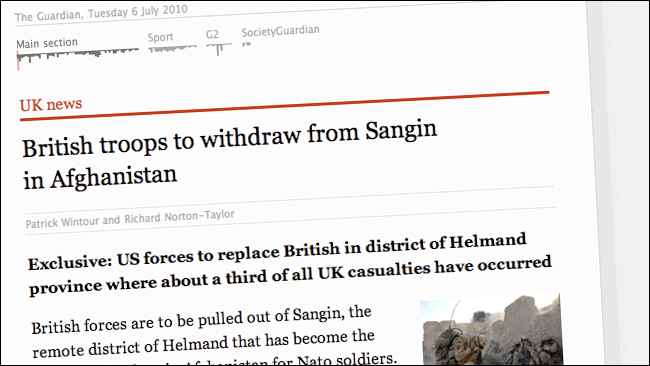 Marina Hyde mixing it in the comments
Marina Hyde is one of our best columnists at getting involved 'below the line' with Guardian readers. A piece she wrote about Perez Hilton attracted several comments of the "Never heard of him so don't know why you wrote this" variety. As my wife put it, "I thought that was why you read newspapers, to find out things you don't know". Marina joined in the comments on her piece with a fantastic put-down:
"As for those 'never heard of him' comments, I must say do always rather wonder after the point of people who regard that type of statement of as any kind of comment at all. thank heavens it never happens on the Sportblog - we could probably all live without people logging in to post comments like 'Kaka - never heard of him' or 'who is Arsene Wenger?' in the mistaken belief that they're being arch."
The tenth thing you didn't know about the Internet
On the debit site of enabling comments, John Naughton's long form essay on "The internet: everything you ever need to know" must have looked great in print for a print audience. Online it probably needed a tenth point added about the statistical likelihood that the first comments on any online newspaper article being 'ugh?'.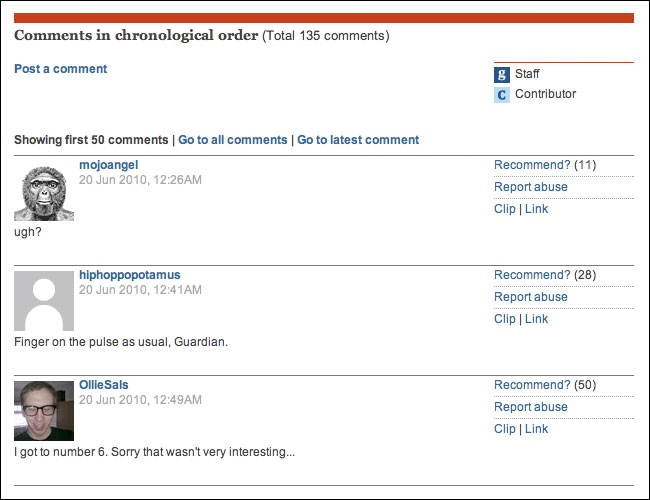 The Times paywall goes up, The Guardian's WordPress plugin comes out
The Guardian responded to The Times paywall with a tongue-in-cheek introduction to guardian.co.uk from John Crace and the announcement of the 'defection' of the BabyBarista blog.
Of longer term technical significance, we launched a Guardian WordPress plugin built off the Open Platform. It allows anyone with a self-hosted WordPress blog to fill in a form to get an API key, and then republish any Guardian article from our API either in full or in snippets. All they are required to do is carry our advertising and tracking code.
"It's pretty simple, really, yet seemingly so difficult for the newspaper industry to grasp. The secret is to stop trying to chase after and punish those who 'steal' your news content, and instead figure out how to make the inevitable into a profit center and brand enhancer. You know, the old 'When life gives you lemons, make lemonade' approach to life, and business."
Recipe search
Another project powered by the Open Platform API is that we finally have a recipe search. For a paper that produces a lot of food coverage in print, it was previously very hard to uncover the depth of the recipes available online at guardian.co.uk. The new search facility has the ability to filter by type of diet, as well as select specific recipe writers, and you can search for a combination of ingredients or a recipe by name.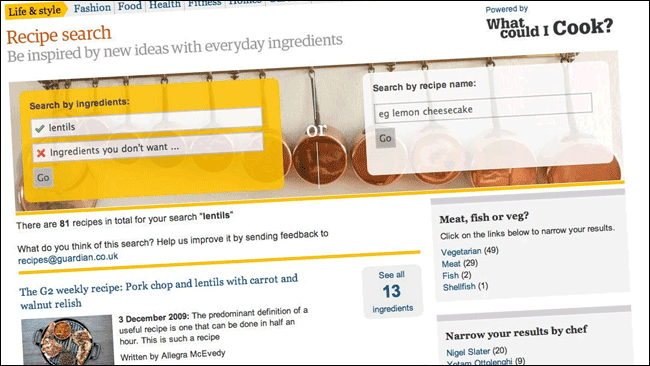 I'm hopeful that this will be the first of many structured and scoped searches over specific chunks of Guardian & Observer content that we can launch off the back of having the API.