Why I care about the racism of the Daily Express
If you ask me why I worry about the accuracy of our press, sometimes I'll just shrug my shoulders and say I don't know why it vexes me so much. And then occasionally I'm reminded.
On my way to work this morning I was walking through Walthamstow market, and a guy in his late fifties or sixties was standing, holding his newspaper out, jabbing at it angrily, whilst shouting to the two women who accompanied him:
"It should never have happened. It should never have happened"
He was pointing to the Express headline "One in five Britons will be ethnics".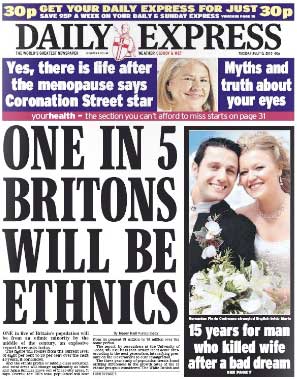 The thing is, if you read the story, it is based on one extrapolation of birth rate figures, projected about 30 years in the future. I've no doubt that if you'd done the same study a couple of decades after the second world war you could have written "One in five Britons to be Jamaican", and if you'd done it a couple of decades before that "One in five Britons to be Irish" and before that "One in five Britons to be Hugenots / Calvinists / marauding Vikings" etc etc.
Maybe I'm doing the guy a disservice.
Maybe he'll go home, read the whole article, and think, gosh, that is outrageous how they've used that headline to make me feel angry about these shapeless faceless 'ethnics' taking over the population. At some point in the future. Possibly. If all of the birth rates for all of the different ethnic groups in the UK continue at exactly the same rate for the next 30 years which would of course be statistically unprecedented. And by which time some of these 'ethnics' will belong to families who have been settled in the UK for the best part of a century.
But I doubt he will.
And that is why accuracy and responsibility in the press vexes me.
That man was absolutely furious. Absolutely furious about something that hasn't happened, but which the headline writers of the Express have made him feel already had happened
Later on my journey to work a party of school children got on my carriage on the underground. A mix of white, brown and asian origin faces all making a terrific racket and excited about a day out from school and talking about Paul the octopus. One was asking "How can the octopus talk?" and a black girl was saying "It was on the news if you don't believe me".
And I thought to myself, what a shame that as you grow up, some of our mainstream newspapers care more about selling papers than they care about making people hate you for your skin colour.