"Re-using data people have left around the web" - Glenn Jones at London IA
Last week we held another of our London IA evenings, with a series of talks looking at innovation and creativity. The night was sponsored by Zebra People and Lab49, and kindly hosted by The Team. Yesterday I blogged my notes from Richard Rutter's talk about web typography, and next week I'll have posts about the presentations from Claire Rowland and Andy Budd. Today I wanted to write about the evening's second talk, by Glenn Jones from Madgex.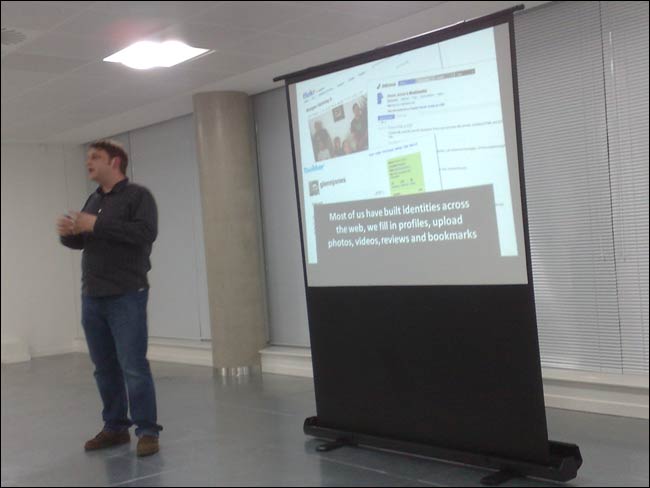 Glenn Jones presenting "Re-using data people have left around the web"
"Re-using data people have left around the web" - Glenn Jones
Despite the title, Glenn wasn't presenting a phishing manual, but instead looking at how our fragmented digital identities can be tied together to save us time. Most of the people in the room at an event like London IA have personal profiles across many different digital services, and a lot of these collect lists of our 'friends' or 'contacts' in a series of 'relationship links'.
Glenn argued that the icon driven 'find me elsewhere on the web' design pattern was now well established, as typified by Tim Van Damme.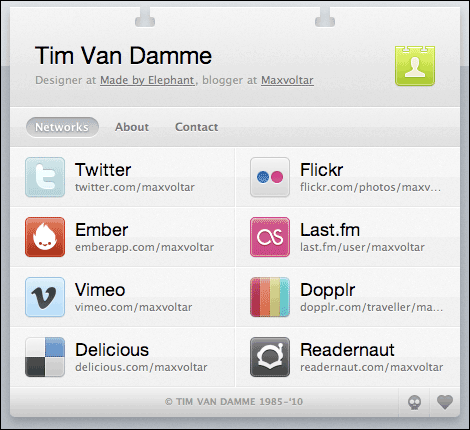 Some of these services use microformats like 'rel=me' to help machines read this data. A significant development in this area was the release of the Google Social Graph API created by Brad Fitzpatrick, which parses public social data out of Google's web index.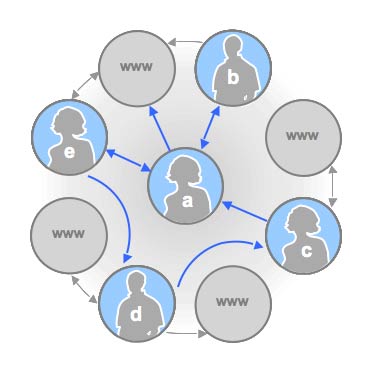 Glenn has used this to create Ident Engine, a software library that allows users to obtain aggregate data about a person from just one entry point into their personal social graph - for example their email address or their Twitter profile URL.
Glenn Jones thinks a future application of this could be a way of pre-filling registration forms. From just one already established web identity, the information to set up a new profile can be gathered using simple protocols like HTML and RSS. Another emerging idea - Webfinger - which allows people to retrieve metadata about a person by using their email address, adds another potential layer of data into the mix.
Personally, I already found it quite useful in spotting where my Internet profiles are out of synch.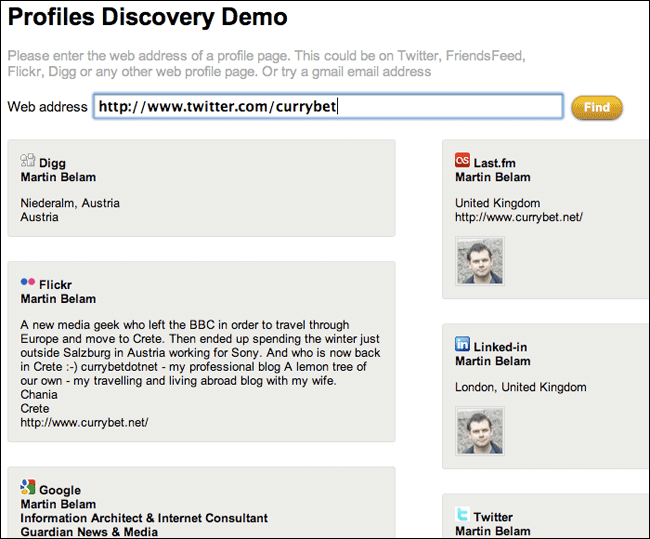 Getting the user experience right for this will be tricky. During the questions after his talk, Glenn said that the more he observes people use the Internet in testing sessions, 'the more it scares him'. He felt that very few 'normal users' understood the implications of the data they were posting onto the web, and how widely available their personal data was. Presenting a lot of information about someone that appears to have been discovered by stealth is a risky proposition.
Glenn wrote about his project last year in an article for A List Apart entitled "Discovering magic", and you can view his London IA slides on Slideshare:
Next...
The third presentation at the recent London IA evening was Claire Rowland talking about the "Psychology Of Creativity", and I'll have notes about that next week.
You might also be interested in the next event for UX/IA people in London that I'll be taking part in, which is on Tuesday 13th April entitled "Content Strategy, Manhattan Style". Before then, this Sunday 11th April I'll be talking myself at the Edinburgh Science Festival as part of a panel looking at "Journalism in the digital age"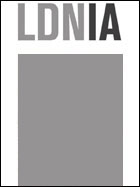 "London IA: Notes from the talks"
Martin Belam, foreword by Ann McMeekin Carrier
London IA is a network of designers, information architects and thinkers. Since 2009 the group has been holding regular meetings featuring talks about UX, or of interest to UXers. This ebook is a compilation of my notes from those evenings, featuring talks by Andy Budd, Giles Colborne, Cennydd Bowles, Claire Rowland, Jason Mesut, Ben Bashford, Chris Heathcote, Dan Lockton, Relly Annett-Baker, Michael Blastland, Margaret Hanley and Richard Rutter amongst others. Topics covered range from ubicomp to psychology, from learning how to sketchnote to how to write a UX book, and how to improve digital design through diverse routes like copy-writing, designing for doubt, learning from music technology or taking care of typography.
"London IA: Notes from the talks" is available for Kindle for £2.47.