"We should have hung them when they were ten. Killing children is wrong" - Retweeting without verification
Yesterday I tweeted a comment I'd noticed on the Daily Mail website underneath an article about Jon Venables:
Best ever user comment in the Mail? "We should have hung them when they were ten. Killing children is wrong" http://bit.ly/cTnFrE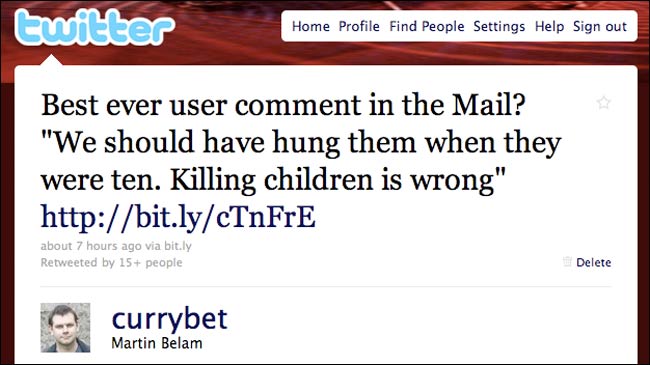 Whether the original comment was intentionally funny or not, my message got retweeted quite a bit, and I noticed something curious about the way it was distributed. A lot of the retweets missed off the link to the source. People echoed the message with an audit trail of sometimes 2 or 3 retweeters, but with no link to the Mail to verify the message.

I found it odd that the link was the disposable bit. I did a quick analysis of Twitter search results this evening for "killing children is wrong", and found that around 35% of tweets taking that quote from the Mail's comments did not have a link back to the paper's website.
It seemed like a classic example of where the assertion that 'something has happened' by trusted peers was more valuable than a hyperlink that actually demonstrated that 'something has happened and here is the evidence'.
In the news industry we are discussing the importance of open linked data to establish provenance, and Ben Goldacre is campaigning for the BBC to link to precise academic articles rather than homepages. This struck me as evidence that for a lot of people, if the soundbite is good enough, people will repeat it without credit regardless.