Tomorrow's newsmakers today - Student newspaper online review: Part 3
Over the last couple of days I've been looking at the digital and online versions of various student newspapers from the UK's universities. With my interest in the future of news, I'm interested in the people who may well be producing the news in the future.
Using multiple channels
In yesterday's post, I showed how some student newspapers were simply putting their printed edition online using technologies like Scribd, rather than having 'a website'. This has some drawbacks in terms of a lack of permanent URLs and findability of articles, but it does beg the question, what is the most appropriate method for delivering news to students online?
With the sweeping generalisation that students use social networking sites lots, and read newspapers very little, investment in delivering content via Facebook and Twitter may be much more cost effective for student unions than running an entire website. Indeed, my research was littered with logos asking people to follow and become fans of their student union.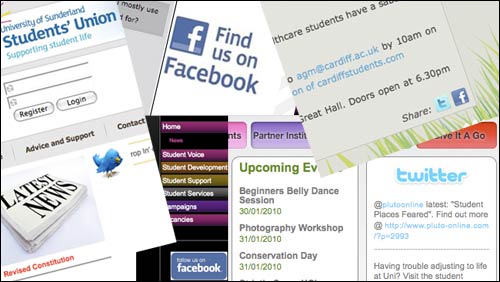 The student unions were not necessarily using all channels to get urgent news out, however. For example, during the adverse weather conditions in early January, Salford Student Union was closed for a couple of days. The website announced this as the lead news item on the homepage.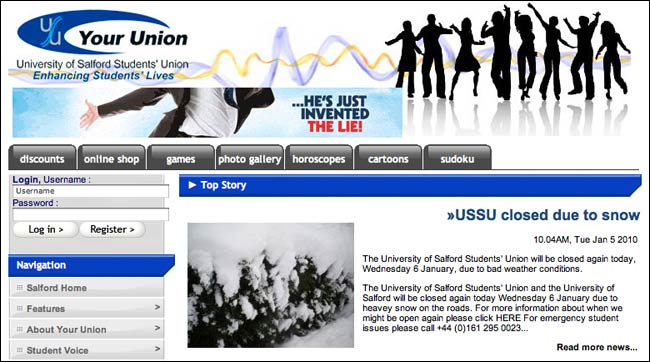 At the same time, the union's Twitter feed had not been updated since before Christmas, and their Facebook page also had no indication that the building was shut.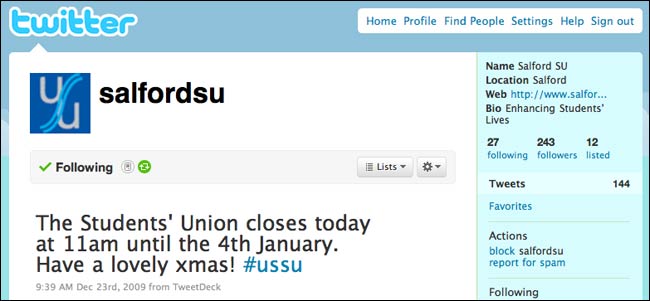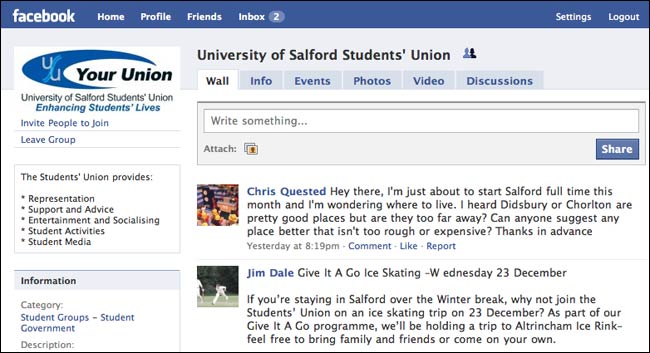 Facebook as a recruitment tool
There was lots of positive engagement with social networks though. 'Leeds On' is the paper for Leeds Met University, after the student union disaffiliated from the Leeds Student paper in 2006.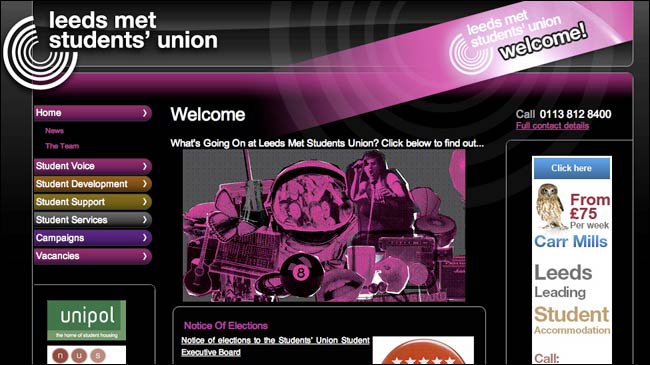 The Student Union at Leeds Met seems to have a broad approach to social media - Leeds On used Facebook to put the year's editorial team together, and the Union's PR team have a blog, which gives an interesting look at their successful campaigns to get coverage .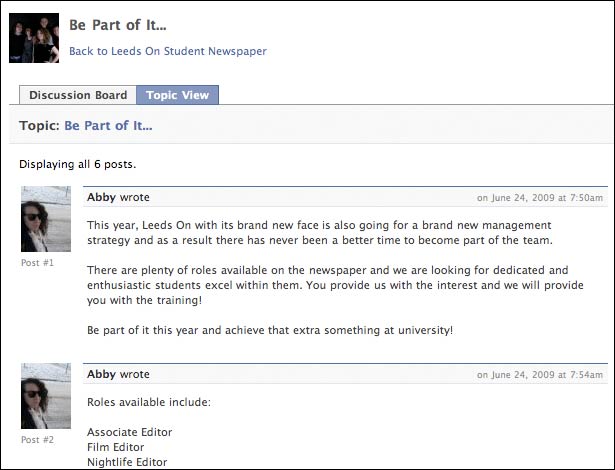 The reality of being on the web
I didn't find an online version of 'Leeds on', but I did find their rival paper - a title I appeared in myself during the 90s when I was at Leeds.
Articles on the Leeds Student site have a nicely formatted pullquote in them, use tags to classify the stories, and have a panel linking to related pieces.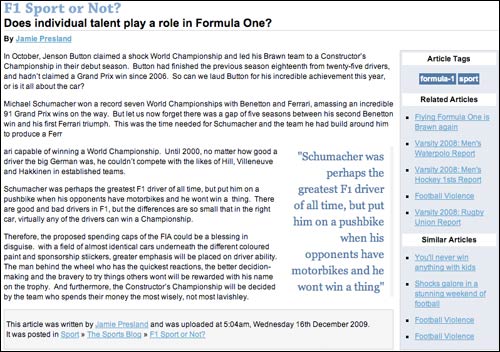 The comment forms on the site strongly emphasise using Facebook connect to have your say.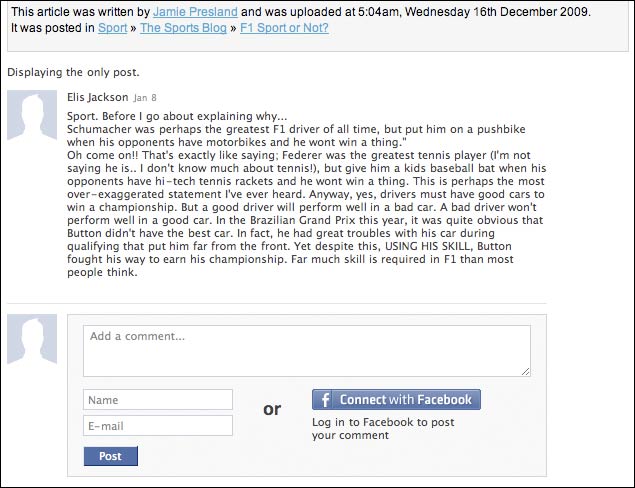 With the online edition of the Leeds Student paper there has been a gap between issues over Christmas. In some cases it looks like this has meant the spammers have moved into the comment thread, with a story about Mephedrone being swamped with comments pushing websites selling the stuff. At the time I took the screengrabs, the spam had been up for a week.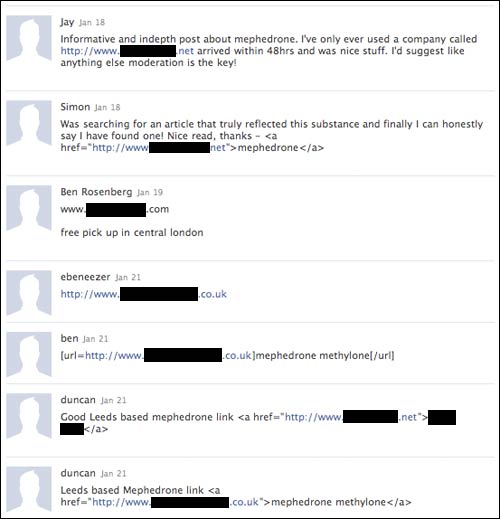 Thanks to a site-wide comment sidebar, these must be gaining plenty of Googlejuice, as they are appearing on virtually every page of the site, and URLs within comments are not nofollow.

An interesting feature, although seemingly with little take-up of voting, was the 'Big Debate'. This replicates the format of a debating society online. After an initial setting out of the premise, the page is split between a 'for' and 'against' position, and the users get to vote on who has carried the day.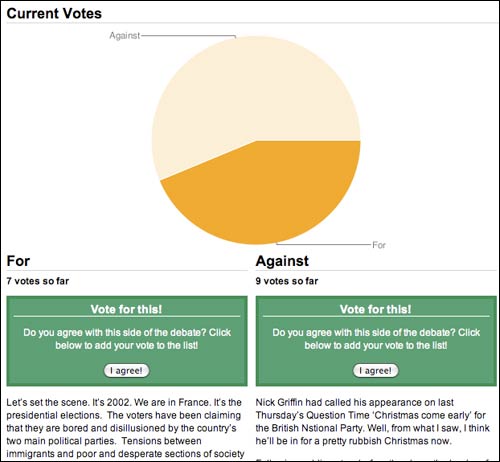 Conclusions
This has been a somewhat whistle-stop tour round various student newspaper websites. One of the obvious conclusions to draw is that the proficiency of digital news publishing varies greatly from title to title, whether it is running a large website like Beaver Online at the LSE, or simply putting up digital facsimiles of the print product like The Demon. Examples like a stagnant Twitter feed at Salford, or the spam comments appearing on Leeds Student, also illustrate that it is sometimes a lot easier to set something up on the web, than it is to keep it maintained. Overall though I was impressed with the professional look and feel of several of the larger sites, and I found that most of them used a very sensible set of navigational categories, making it easy to differentiate between news reporting and 'features'.
Next...
As I mentioned on Wednesday, this exercise is the first of a couple of series of posts looking at how people currently going through university or taking journalism and media courses are approaching digital news publishing. Later this month I'll be looking at some of the trends I have been observing through following the blogs of a selection of current journalism students.