Africa in the FIFA World Cup: Part 3 - The seventies
On Friday, in a no doubt over-long and over-complicated ceremony with lots of mentions of complicated factors like 'national co-efficient', the draw will be made for the 2010 World Cup Finals. Africa will be represented by hosts South Africa alongside Algeria, Cameroon, Ghana, Ivory Coast and Nigeria. It wasn't always the case that Africa had so many spots in the finals. Over the last couple of days I've been posting about the history of African teams in the Finals, and following Egypt's appearance in 1934, it was many years until an African team appeared again. After decades in the World Cup wilderness, in 1970 Morocco qualified for Mexico.
Morocco at Mexico 1970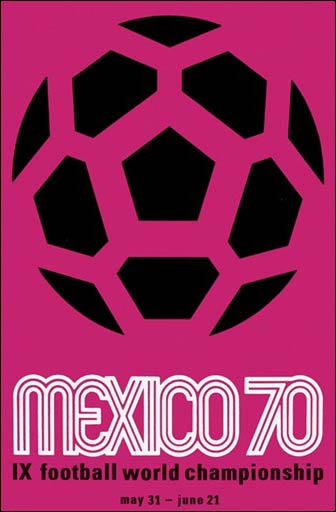 African nations had boycotted the 1966 qualifying tournament en masse in protest at their scant allocation of one spot in an intercontinental play-off to reach the finals in England. The tactic was a success, and Africa was awarded one place outright for Mexico, which was contested by 13 nations.
Morocco overcame Senegal in the first round of qualifying, which required a play-off after they drew a two-legged tie on aggregate. Victory over Tunisia followed in the second round of knock-out matches. After that, Morocco topped a group of three teams vying for qualification, edging out Nigeria and Sudan.
Morocco were subsequently drawn into Group 4 of the 1970 World Cup Finals, where they faced West Germany, Peru and Bulgaria. At the time it was felt that FIFA allowed a lot of politics to play-out in who was allowed to meet whom. As Albert Barham reported in The Guardian:
"The distribution of the four jokers needs the most careful handling of all. Israel and Morocco must be kept apart at least until the semifinals to prevent Morocco withdrawing altogether from the competition"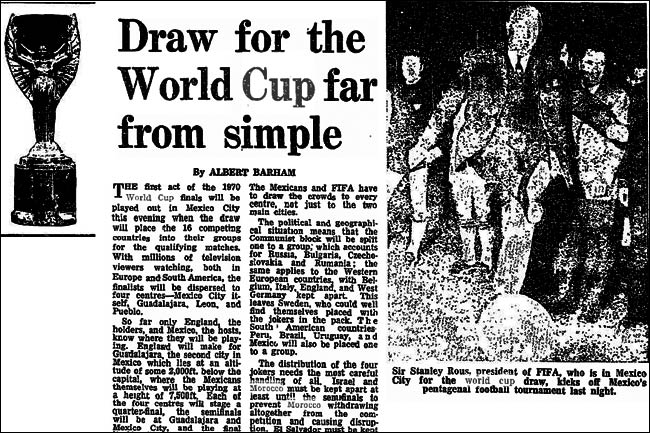 Morocco took the lead against the Germans in their opening game, with Mohammed Houmane becoming the first African to score in the World Cup Finals since Abdul Fawzi in 1934. West Germany came back to win the match, and Morocco lost 3-0 to Peru in their second game. In their final match they secured a 1-1 draw with Bulgaria, the first time an African side avoided defeat in a game at the finals.
Zaire at West Germany 1974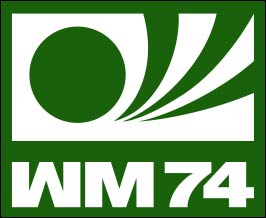 Zaire's appearance in the 1974 World Cup Finals did nothing to enhance the reputation of African football outside of the continent. Their disastrous campaign saw them concede 14 goals, and fail to score once over their three matches. Alongside defeats by Scotland and Brazil, the nadir was a 9-0 thrashing by Yugoslavia.
Given their abject performance, it is easy to wonder how they qualified. They were certainly rewarded handsomely for doing so, with a house, car and 15 days holiday given to each member of the squad.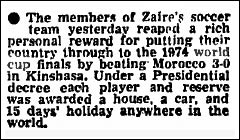 Again Africa had one guaranteed spot at the finals, but with many more teams attempting to reach Germany - 24 in total. Zaire first defeated Togo and then Cameroon in two-legged ties. The final stage of qualification was once again a 3 team group, this time comprising Zaire, Zambia and 1970's qualifiers Morocco. Zaire prevailed with a crucial 3-0 victory over Morocco in December 1973 to book their spot.
Just to prove that there is nothing new under the sun, the game was followed by a Moroccan appeal to FIFA using video evidence, as they claimed that poor refereeing had cost them a place in the finals.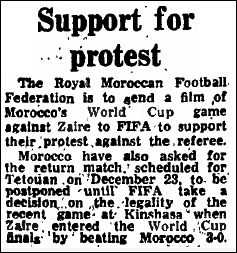 The Guardian reports the Moroccan protest - December 15 1973
Tunisia at Argentina 1978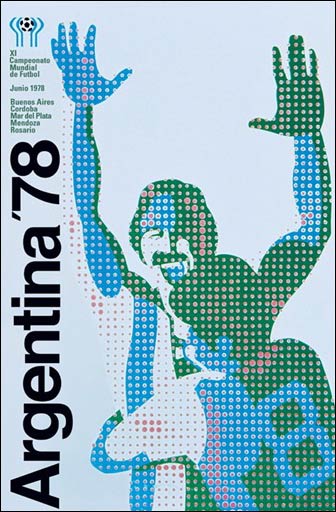 If Zaire's appearance in 1974 had been a disaster, Tunisia's trip to Argentina in 1978 was a complete contrast. On 2nd June 1978, 44 years after Egypt first appeared in a finals, Tunisia became the first African team to win game at the World Cup, with a 3-1 victory over Mexico. The Guardian described it as "Outsiders dazzle".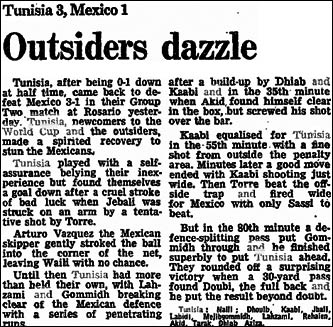 Although defeated 1-0 by Poland in their second game, they achieved a very creditable 0-0 draw with World Champions West Germany in their third game. Whilst this was not enough to progress from Group 2, it was by far the best performance by an African nation to date.
The Tunisian route to South America featured a penalty shoot-out to determine the victor in their first round match against Morocco. They then knocked out Algeria and Guinea on the way to a final round of matches Egypt and Nigeria.
In the next post in this series, I'll be looking at the increased presence of African teams as the World Cup format expanded to accommodate 24 countries in Spain in 1982.