"Thierry Henry and the net" piece on Guardian PDA blog
Having gone on and on and on about comments on The Guardian site this week, I was a little bit nervous what might happen 'below the line' on a piece I wrote for the PDA Blog yesterday: "Thierry Henry and the net: Fifa report whitewash and anger on Twitter".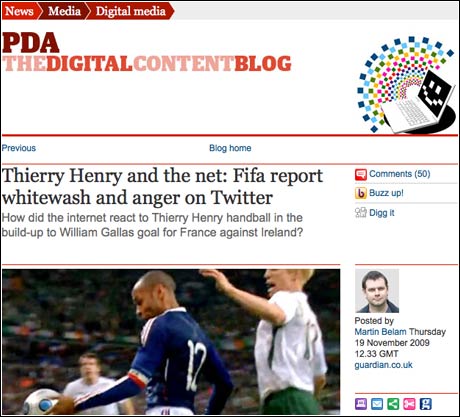 In the end I seem to have got away with just a couple of comments along the lines of 'Journalist gets paid to write article that claims people discuss current affairs on Twitter. In other news: Pope still Catholic', which seemed pretty good going.
Rather than focus on Twitter, what actually got me interested in how the play-off story had panned out online was the fact that FIFA's "official" coverage of the game was so bland and inoffensive that from their matchcast and initial reports, you wouldn't have even known there was anything controversial about the goal.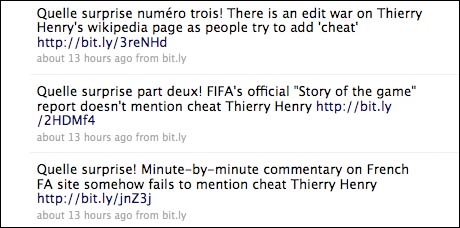 It worries me a little that we may be heading in the direction where internet reporting rights on sporting events are restricted. As I said in a comment reply on the PDA piece:
"There is a school of thought that says direct communication from clubs and players to fans, and closer control of internet broadcast and reporting rights, will do away with the need for a lot of specialised sports journalism. We might end up with something rather more like minute-by-minute PR puffs than the instant outraged reaction you got from Barry Glendenning on Wednesday."
During the course of the article I looked at the coverage on sites including FIFA, the FFF, the FAI, Le Monde and the Wikipedia edit war that erupted. Here are some of the screenshots that I took illustrating the points I made.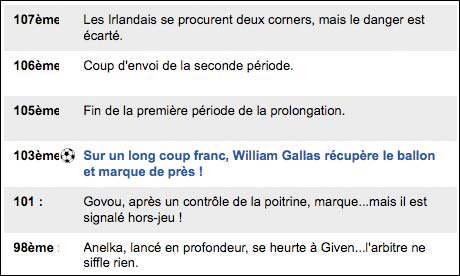 Live text from the FFF does not mention Henry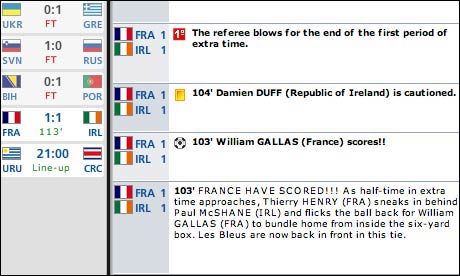 FIFA's matchcast carries no hint there has been controversy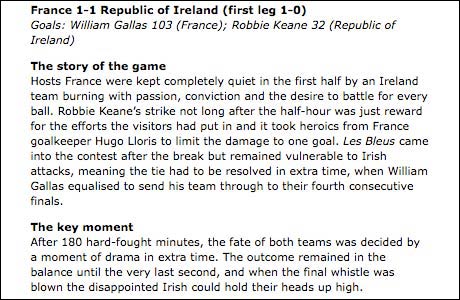 FIFA's play-off review omits any mention of Thierry Henry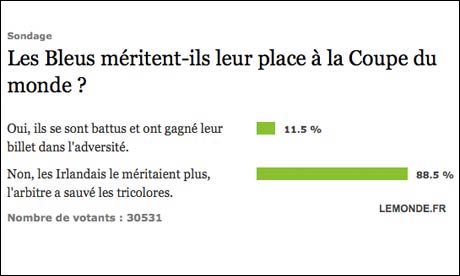 Vote on Le Monde site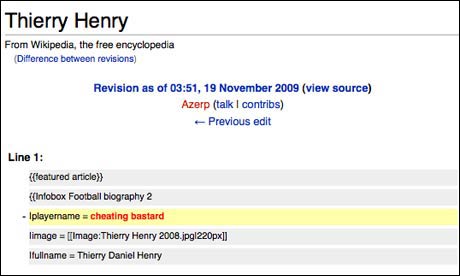 One 'diff' from the Thierry Henry Wikipedia edit war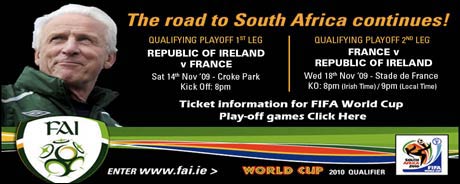 The FAI splash page that was still greeting visitors to their site yesterday