"My first term" - a seventies pull-out in a noughties local paper?
I'm the kind of person who still buys a local paper, and this week in the Waltham Forest Guardian I noticed a feature I found distinctly odd. "My First Term" is an 8 page pull-out compiling school classroom pictures from a variety of nearby local authorities. The geographical range covered is quite wide, including Walthamstow, Woodford Green, Loughton and Waltham Abbey.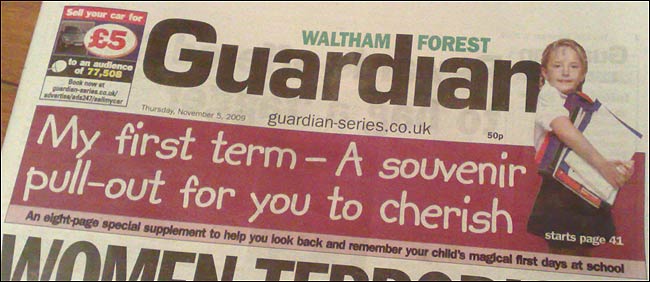 Initially, I couldn't help but be surprised that, in these days of media paedosteria, the paper was trying to sell extra copies on the premise that you could buy lots of pictures of other people's children.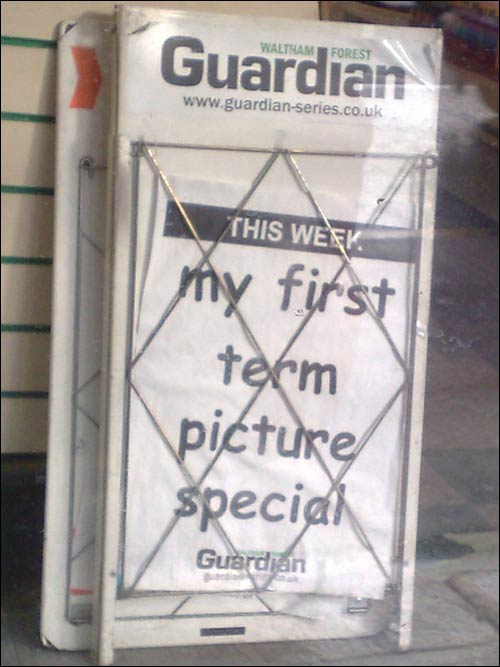 And I really couldn't fathom how the business case might work in 2009.
It seemed to me that a pull-out like that might have generated revenue in several different ways, giving the paper the ability to:
Sell additional advertising based on the theme of children & photography, because of being able to claim a specific audience for this issue.
Sell reproductions of the photos to relations of the children who weren't able to obtain them directly from the school or to people with an unhealthy interest in other people's small children in school uniform
Sell additional copies of the paper due to demand for the pictures from parents / family who didn't normally buy it, but wanted a keepsake of the time their child was in the local paper
All those seem to me to have been perfectly reasonable at some point, but I wondered about the viability today. The supplement would have cost money to produce, whether it was sourcing the images, to getting rights clearance (and I'm very interested in the extent to which parents consented to wider publication of the images) to publishing the extra pages. There were only 8 small panels of advertising included in the supplement though, and I'm personally unconvinced about any uplift effect on sales.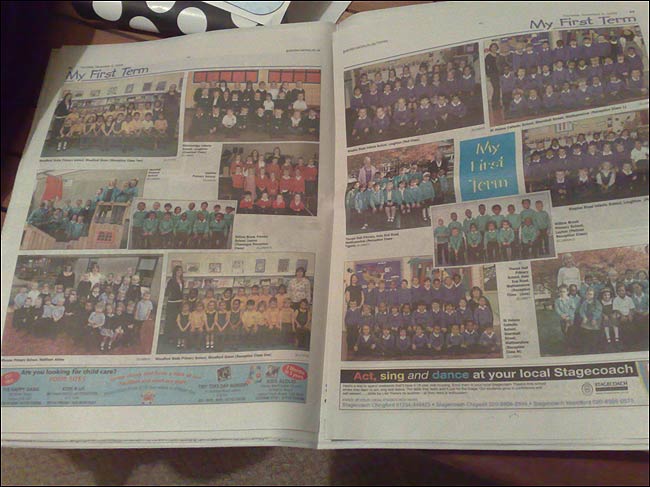 The proliferation of mobile phones with cameras, and digital imaging technology in general, means that we are long way away from the days when few parents could afford to distribute lots of pictures of their family. The formal school photograph still has a place of course, but in the context of people uploading tons and tons of content to the web every second, it is a very different proposition to the photographs that I posed for.
I was at an SLA Europe event last week where I saw Andrew Hughes of the NLA say he was fed up of armchair pundits and aggregators telling newspapers how to run their businesses when they don't have access to the full financial picture of the companies involved.
So I'm not going to do that.
What I will say, though, is that we know that if you were setting up a local news business from scratch in 2009, there are lots of things you would do differently to the structures that exist today. I'm not sure that souvenir school photo pull-outs are the first thing I'd think off as either a public service offering or a money-spinner.