"1966 and all that..." - Contrasting England's 1966 and 2018 World Cup bids

Tonight we'll be finding out the final qualifiers for next year's World Cup Finals in South Africa. Press attention has also been focused on England's bid to host the 2018 or 2022 edition of the tournament. Personally, I'm of the opinion that the reason FIFA abandoned their continental rotation system and introduced this double round of bidding was because they didn't get to go on lots of exotic junkets during the bidding process for 2010 and 2014. Imagine the hand-bagging exploits the unimpeachable Jack Warner missed out on...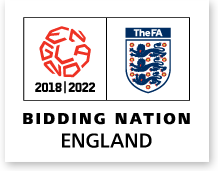 But in an example of a sport bidding process gone made, not only is England bidding for the World Cup, but English cities are bidding to be part of the World Cup bid.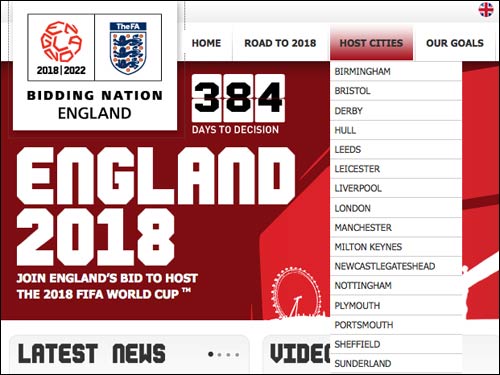 16 cities, including the somewhat unlikely choices of Milton Keynes and Plymouth, are attempting to be part of the English FA proposal to FIFA. This is frankly ludicrous. The idea that London or Manchester need to campaign to be included in the bid seems an astonishing waste of effort. Visit England's Northwest, for example has a digital campaign website for Manchester's bid, whilst the list of contributors and stakeholders in Sheffield's bid boggles the mind at how much time and money is being expended by those public bodies.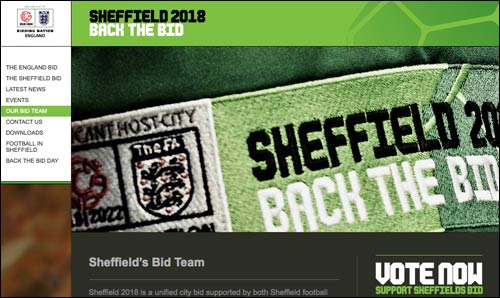 It was all so much simpler in the old days.
England were awarded the right to host the 1966 World Cup in a process that the country barely seems to have noticed. In the March of 1960, The Guardian carried a report that the Spanish FA would support a World Cup in England. Note the synonymous use of Britain meaning England in the article!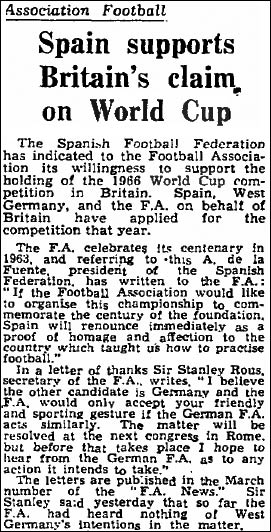 According to our digital archive, neither The Guardian nor The Observer mentioned the bidding process again until the FIFA meeting in Rome made a final decision. Some 6 years before they would meet in the final, England pipped West Germany to hosting the tournament in a close vote, 34 to 27.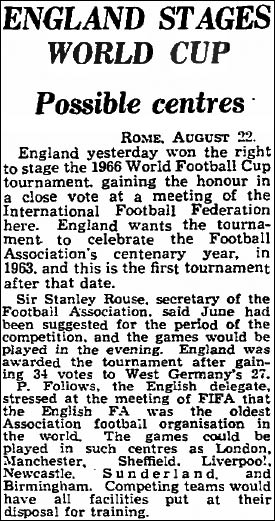 At this stage, the FA had not even decided which stadiums would be used. This wasn't announced until November 1962, when Arsenal, Aston Villa, Everton, Manchester United, Newcastle United, Sheffield Wednesday, Sunderland were named as provisional hosts alongside Wembley.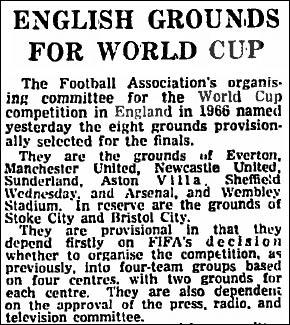 That provisional list turned out not to be accurate. For the actual tournament, Middlesbrough's Ayresome Park replaced Newcastle as a venue, and Arsenal's Highbury didn't feature at all. In fact, the second London venue used was White City's Olympic stadium. This hosted just one game, Uruguay vs France on July 15th, because Wembley's owners were unwilling to cancel their regular greyhound meeting that day to accommodate the World Cup.
I bet that wouldn't go down well in a FIFA bid document these days...