"Where can I find the UKs cheapest cars" - hey, we are number #1 for this really long search phrase!
I've written before about the trend towards asking users to search for a specific phrase in marketing material as an easier way to help users navigate on the web rather than remembering URLs.

I just saw an example of it taken to an absolute extreme.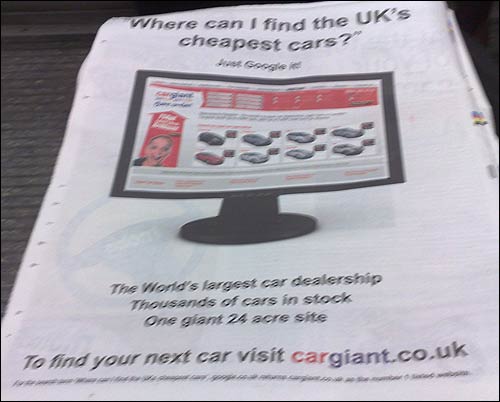 In Metro this morning, the strapline for a cargiant.co.uk advert was to 'Just Google it', with the proud boast at the foot of the page:
"For the search term 'where can I find the UKs cheapest cars', google.co.uk returns cargiant.co.uk as the number 1 listed website."

Firstly, note it is on google.co.uk, not .com, that they are asking people to use. They now have to defend that #1 position, and if I owned any kind of car-selling operation I'd have been bidding to put my PPC advert above their organic listing for that phrase the second I saw the ad.
And above all that, I just can't get my head around what happened in the meeting where they decided "search for 'where can I find the UKs cheapest cars'" was a catchier marketing message than "search for 'cargiant'" or just drilling home 'visit cargiant.co.uk'.