UX London redux video: James Box on Wireframes 2.0 - part 1
The most recent London IA Mini evening event was a redux of the UX London conference. I've started posting some video clips I made of the evening. One of the most engaging and useful presentations was by James Box, and this is the first of a series of excerpts from his "Wireframes 2.0" redux.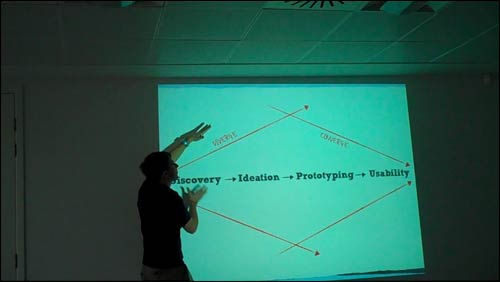 James Box on Wireframes 2.0
In this clip, James introduces the Wireframes 2.0 workshop that he presented with colleague Richard Rutter, and discusses how, in writing the content, he tried to identify an over-arching "process" for his work methodology. He introduces the concept of successful projects having four typical phases: discovery, ideation, prototyping and usability.
Next...
Tomorrow's clips will feature James Box demonstrating some real examples of sketching user interfaces, and explaining when it is appropriate to move onto making interactive prototypes.