UX London redux video: James Box on Wireframes 2.0 - part 4
During August the London IA Mini event was a redux evening that concentrated on providing a distilled version of the recent UX London conference. I made some video clips of the evening, and over the last couple of days I have been posting excerpts from James Box's "Wireframes 2.0" talk.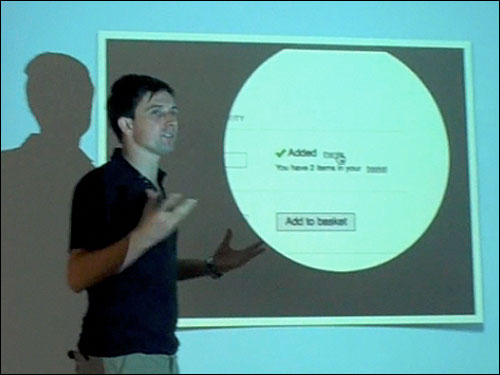 James Box on Wireframes 2.0
In the last section of this redux presentation from James Box, he examines ways of documenting rich interactions like AJAX interfaces. He illustrates this with an example video produced to replace unwieldy spreadsheet and functional spec annotation with 'a picture and a conversation' with developers. He also talks about how iterative usability testing is used to be 'formative' in the Clearleft design process, rather than summative at the end of a project.
Next...
The final clip from James Box's "Wireframe 2.0" presentation covers the question and answer that followed, with contributions from Jason Mesut and Andy Budd.