'thelondonpaper' website review
I don't know, you take a couple of days off work to move house become homeless, and people start closing newspapers behind your back. My commute home will shortly face one less obstruction when I'm walking down York Way.
It was only at the end of May that doomed free newspaper thelondonpaper was advertising their free website for London - thelondonpaper.com - with a big wrap-around spread that reproduced the newly re-designed site in print. Free seems to have very much gone out of fashion at News International.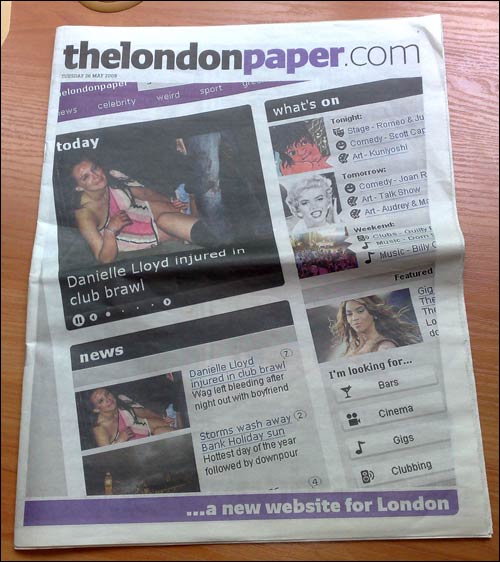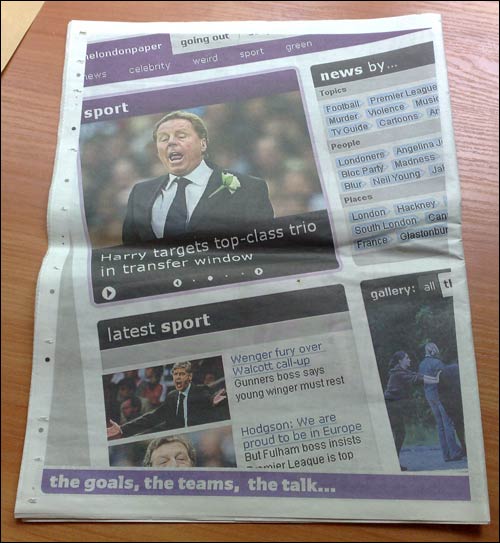 In a comment on a story about the paper's closure on The Guardian site, natts said:
"I've been a freelance web developer at thelondonpaper.com for the past two years. After fighting through a huge amount of red tape, we were finally able to relaunch the badly failing launch website in April this year and have doubled our traffic within four months. Just today we announced our private API (following in the steps of The Guardian's Open Platform), so the news came as a great shock to us."
Back in April, when the new design was launched, I filmed myself trying it out for the first time, for part of a series of video website reviews that I never got around to finishing. With the imminent demise of the paper, and the site, I've dug out the footage.