Wembley on the web: Part 2 - The FA Cup Final online from Sky Sports and the BBC

Yesterday I started blogging about some of my thoughts on the live online coverage provided for the FA Cup Final between Chelsea and Everton, with a look at the websites of the two channels showing the game live, Setanta and ITV. Today I wanted to look at two networks who no longer have the rights to broadcast the game - Sky Sports and the BBC.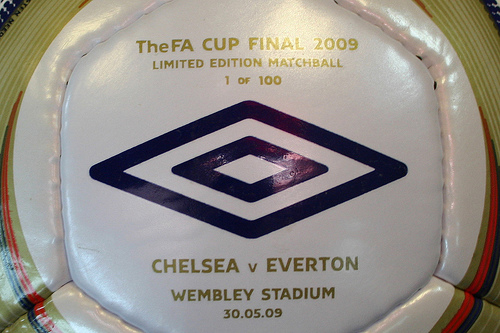 Photo by umbrofootball
Sky Sports
For Sky Sports it must be a major irritation that ITV & Setanta secured the deal to show the FA Cup and England matches which had been theirs. Nevertheless, the FA Cup Final was the main focus of their homepage whilst the game was being played.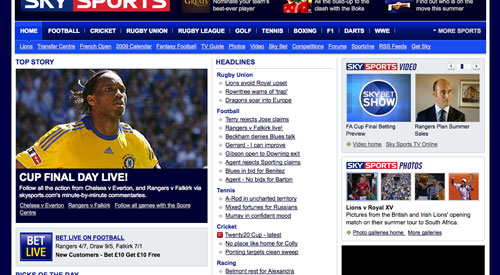 Coverage of the match was provided via Sky's usual Flash delivered 'Match centre'.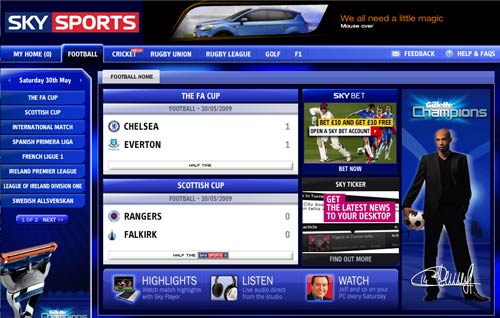 Since they were not broadcasting the match, although all the usual options seemed open to users, Sky Sports did not seem to have their regular feed of live match data. Apart from 'goals scored' this screen was pretty uninformative.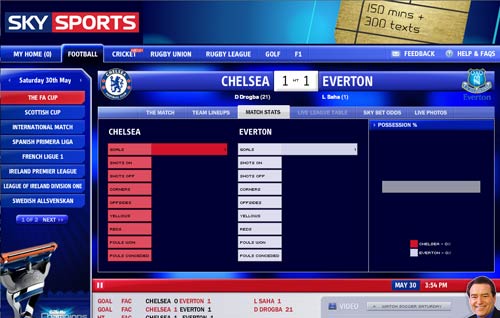 The commercial aspects of the Sky Sports 'Match centre' were still fully operational though, with the odds for various in-match betting options directly available via the web.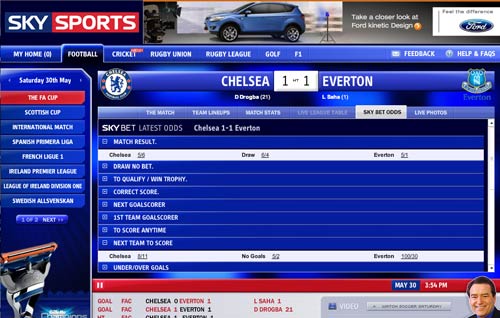 BBC
The BBC are another broadcaster no doubt still smarting from having lost the rights to broadcast the FA Cup on television. Their football homepage used a revolving photo gallery of pictures taken during the game to promote their mostly text-based web coverage.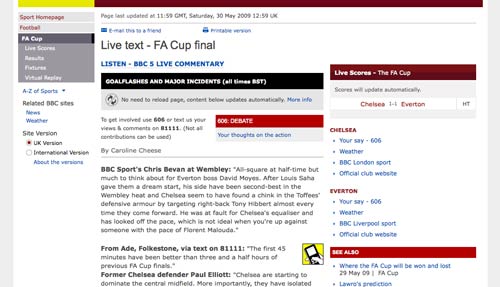 The BBC still had Radio Five Live at the game, which could be listened to online in the UK using the radio flavoured bits of the iPlayer. They are also able to use the wide ranges of their operation to add to their live text coverage. Phil McNulty from BBC Sport, user contributions from the 606 message board, and quotes from Five Live's commentary team and expert summarisers were all added into the live text mix.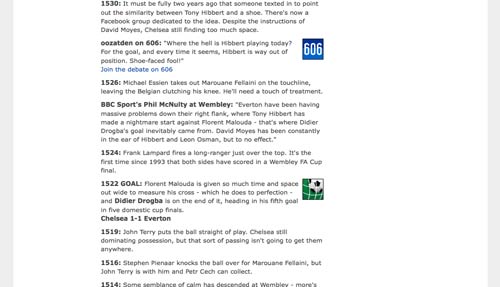 The BBC have been experimenting with a 'beta' version of their live text service, which means that users don't have to reload the page. Instead the latest updates slot into the top of the page. I can see the attraction of it, but I did find that when I was trying to read further down the page back into the history of the live text it was disconcerting as things started jumping around. I suspect that this might be a user preference thing, and that I'm being a bit old fashioned...
Tomorrow I'll be sticking with a football theme, and looking at the way that peer-to-peer rebroadcasting of sport could be about to do to the current television rights framework what Napster did for the music industry...