Spector Twitter hoax shows online honesty gap between bloggers and newspapers
Earlier this week Joanna Geary blogged about the Birmingham Mail's decision to hold a story about ex-Villa player Gareth Barry back from the web in order to maximise exposure in print. That story is interesting enough in itself, but I wanted to look at something about the culture of blogging that was revealed.
Joanna initially got her facts wrong.
She'd got the time the web version of the story had been published wrong, and in a great display of social media engagement, people from the Birmingham Mail left comments explaining the real sequence of events.
Joanna then corrected her copy.
She didn't do it with a 'stealth edit' that concealed the error. She didn't do it by adding a little addendum at the end of the article, or something at the start to give the blog post a health warning.
She clearly scored out the incorrect bits of the story, adding new text and holding her hand up. She visibly corrected an honest mistake.
Now let's look at another story that had a few 'errors' in it this week.
The Mirror reported online that Phil Spector had been using Twitter to complain about his wig being confiscated in jail. It was a great story, with a great photo of Spector, and it was, of course, completely, utterly untrue.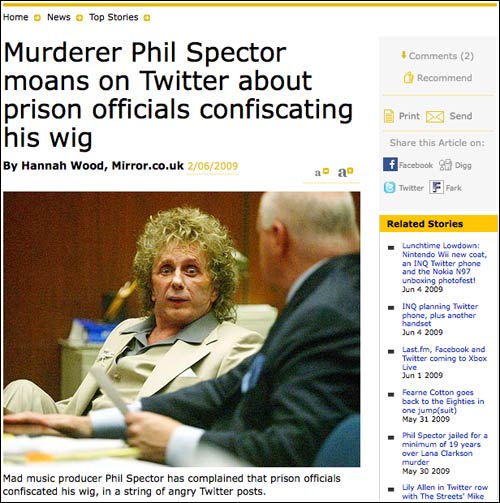 The following day, the person behind the Twitter stream revealed that it was a hoax.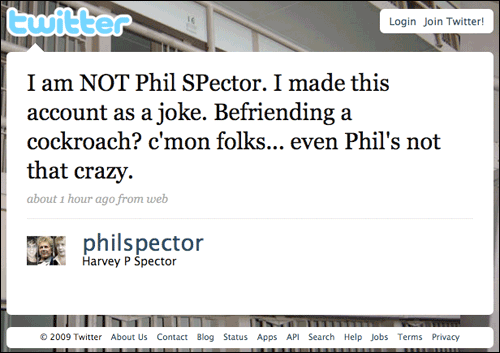 Not that Mirror readers know that.
Three days later the story still stands online, with no correction and no coverage of the hoax [1], complete with outraged user comments like:
"What's Phil Spector - or any other convicted murderer for that matter - doing with a computer in jail? Prisons (even American ones, it seems) are like a home from home for these people who've taken someone else's life and destroyed the lives of the victim's loved ones. Spector should have no such luxuries until he's considered to have earned them after a few years inside. He's only been locked up for a month - Some justice!"
The Telegraph did cover that it was a hoax. Mick Brown blogged about it, and then an article was written up.
"For the past week the unidentified man posed as Spector, keeping Twitter followers and the world's media amused with regular comments about life in his prison cell, including a tale of how he befriended a cockroach named Wilson. "
What they failed to mention is that one of the bits of the world's media amused by the tale was...The Telegraph: "Phil Spector complains about prison confiscating his wig on Twitter"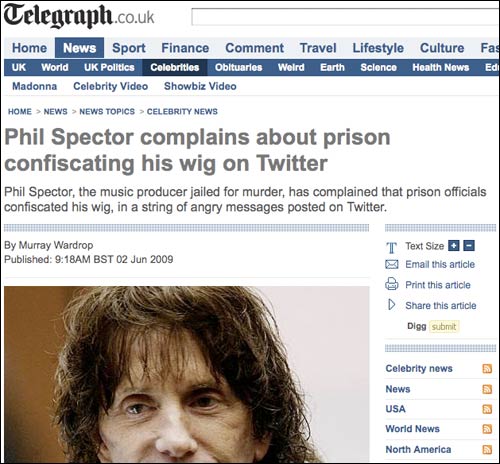 Again, at the time of writing, the original article stands as published, with no correction or link forward to the hoax being revealed.
How is it that a 'blogger' can get publishing corrections right and our mainstream media can't? When Ken Paulson wrote his brilliant piece "We'd rave about newspapers if they were invented today" he said:
"We also know that you sometimes wonder whether you can trust the information you see online. We plan to introduce a painstaking new process called 'factchecking' in which we actually verify the information before we pass it along to you."
As people look at the pantheon of threats to the newspaper industry at the moment, they talk about the HuffPo freeloading off their content, Google infringing their copyright, and armchair blogging blowhards like myself spouting uninformed opinion based on what we've read in the papers without actually paying for them.
But can you remember the last time you heard a newspaper executive stand up and say that "One of the problems our businesses face in the digital era is that we have repeatedly been caught publishing completely untrue things on the Internet, and in the face of that, we then neither correct nor retract them, or apologise to our audience"?