Is peer-to-peer streaming of international football showing the game a new revenue model?

When I lived in Greece it was sometimes a bit hit and miss whether I got to see England games. The time difference meant they were on late in the evening, and often there were competing fixtures of more local interest, or featuring Denmark, Sweden or Norway, from where a great deal of tourists to Chania originated. It meant that during England's doomed attempt to qualify for Euro2008 I got used to the UEFA live match centre, and relied a lot on minute-by-minute coverage from The Guardian and the BBC.
I had a flashback to that situation after England had defeated Kazakhstan last weekend. England's two key rivals in Group 6 were playing each other in Zagreb, and so I was using the FIFA World Cup Matchcast centre to track the progress of that match.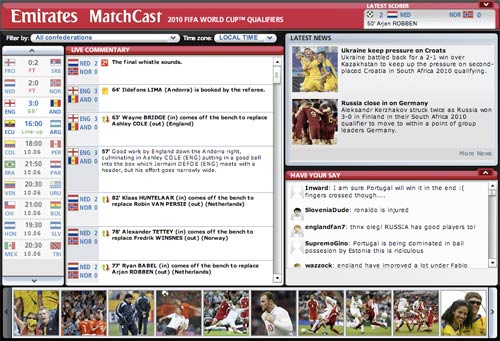 This provides users with a scoreboard of what is going on, and text commentary of significant moments from World Cup Qualifying matches across the globe. There is also a small chat room for football fans to hurl insults at each other.
However, it is already looking like a dated format.
With 20 minutes to go in Zagreb I hopped over to justin.tv, and found someone re-broadcasting coverage of Croatia-Ukraine. OK, the commentary wasn't in English, and the quality wasn't great, but it was enough to watch the conclusion, during which Croatia hit the post twice, leaving the score at 2:2 - a very pleasing result from an English point of view.
This screenshot, taken during England's game with Andorra on Wednesday, shows how now on international nights, rather than relying on the official FIFA text commentary, I could have had my pick of games from around the world on P2P live-casting.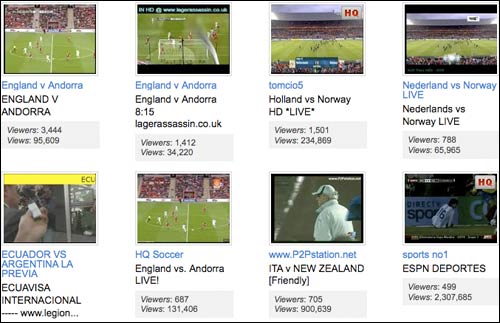 The thing is, it made me start wondering how long the existing sports rights broadcasting framework can hold in place. Peter Bazalgette recently said that regional news in the UK is based around aerials. To a greater extent, so are national broadcasting sports rights 'territories'.
If the Croatian FA had offered me direct, for a couple of Euro, the chance to tune into the last 15 minutes of that game online, in better quality than I could get from justin.tv, I'd have almost certainly paid it.
At the moment, the technology is there to deliver me that content, the technology is there to take my payment, and the consumer demand is there. So when will it start happening?