How major publishers are using social media to drive traffic - Part 4
This is the fourth of a series of posts based on a talk I gave during May 2009 at WebCertain's "International Social Media Summit" in London. You can find the first part here, and view the original presentation slides on SlideShare.

Twitter

Twitter has been, without doubt, the communications technology hype of the year.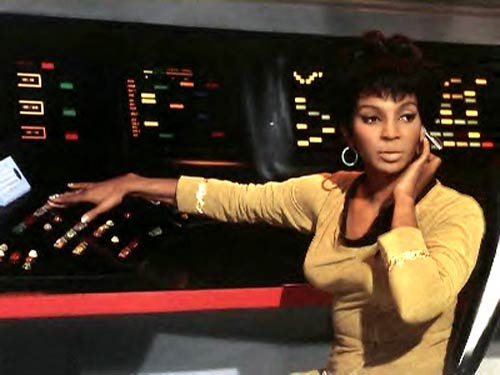 There are several ways that mainstream companies have been using Twitter - some more successfully than others.
One approach is to simply announce all content as it is published. There are various tools available that will allow you to convert your RSS feed into a Twitter stream, and followers get a notification every time a new story is published. The main Sky News Twitter account is an example of this approach.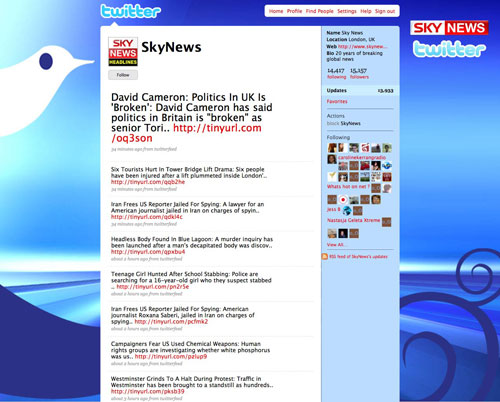 This isn't terribly interactive though, and doesn't really take advantage of Twitter's unique strengths as a medium.
Another possible approach is to selectively promote material via Twitter. The newspaper where I work, The Guardian, does this with the @GuardianVoices account. It doesn't automatically link to all the content published on The Guardian's blogs or Comment Is Free site. What it does is pick out links to content where there has been a particular spike of interactivity.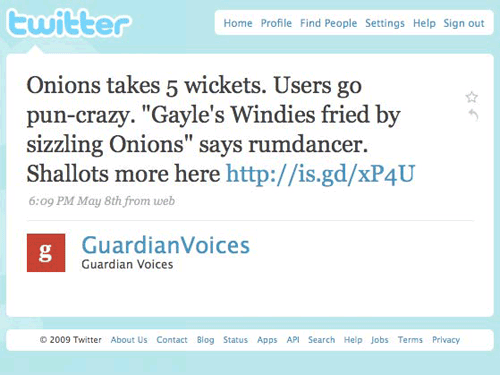 Channel4News has made particularly effective and innovative use of Twitter. The feed rarely links directly to content, but gives a flavour of what is going on in the newsroom, what will be making the evening bulletin, what tie Jon Snow is going to wear, or pokes fun at the socks he is wearing. It might not drive specific traffic to content, but it does drive a higher awareness of Channel 4 news and a higher user engagement with the product, and they've even used it to help source features for the programme.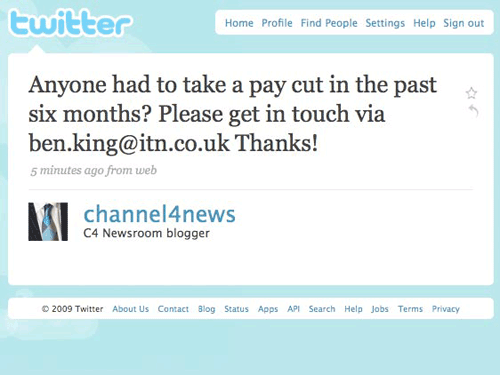 ITV's football coverage often comes in for criticism - not least for when they manage to miss crucial goals by cutting to the adverts. However, their Twitter presence - @ITVfootball - is very conversational and engaged with the audience. It is a real asset to their brand.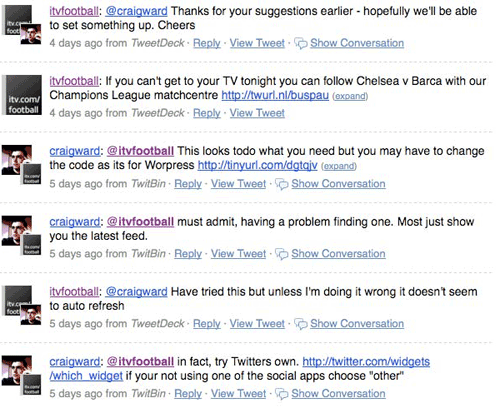 For the FA Cup Final, they also started adding AudioBoo into the mix, showing that the person driving their social media strategy is really pushing things forward for them.
Really talking to your users
Lovefilm, a content distributor, rather than content publisher, have used Twitter as a channel to recruit existing customers into a usability testing programme and a series of phone interviews to help improve the service. It can be a highly targeted recruitment tool - and cheap!
Taking advantage of the interactive nature of Twitter can also help generate and shape content. The Guardian has several high profile users of Twitter. Jemima Kiss is prolific at 'tweeting', and has used Twitter on more than one occasion to ask questions, the answers of which have found their way into print in The Guardian's newspaper. Charles Arthur and Jack Schofield are also very active and very entertaining. And sometimes very argumentative. [1]
Of course, sometimes when a 'Personality' Twitter account is very closely associated with your brand, things can get a bit heated. And that might start you thinking about...
Monitoring your brand on Twitter
A parody Twitter stream of the Daily Mail which took their editorial line just that little bit further - 'with hysterical results' - did not amuse the paper. Twitter intervened and forcibly renamed the account.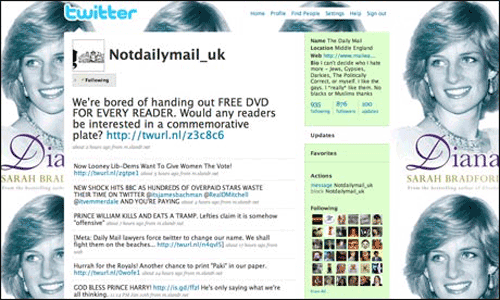 Fake celebrity accounts have also caught the press out on several occasions - with The Mirror and The Telegraph in the UK both reporting that Phil Spector was tweeting from prison and complaining about his wigs being confiscated.
Tomorrow, in the fifth part of this series, I'll be looking at how major publishers have been using blogging.


[1] You can find a list of official Guardian Twitter accounts, and Guardian developer Paul Carvill has also put together Twitian, which aggregates tweets from Guardian staff, including myself. [Return to article]