'Local Newspaper Week' - Democracy
For 'Local Newspaper Week' I've been looking at some of the things I've noticed about my local press in Muswell Hill since I moved there back in October. Yesterday I was looking at some issues around advertising.

Today I wanted to look at local democracy. One of the principle reasons for ensuring that our regional media survives the current economic climate is because of the diligent role they play in attending council meetings, court proceedings, and holding local organisations like the police and hospitals to public account.
Battle of the MP's blog
One political story that made the news in the first couple of months I've lived in Haringey was our Liberal Democrat MP Lynne Featherstone admitting on her blog that she had called 999 to summon the fire brigade to what turned out out to be a faulty boiler. This was seized upon by one political opponent as showing her to be 'dizzy'. It became a story that migrated from a personal blog, to the local press, and then on to the national papers.
Not everybody in the area approves of her having a blog. Ian Hunt wrote to the Ham & High Broadway to complain that:
"What concerns me is that the story only seems to have come to light because Ms Featherstone chose to report the incident on her blog. Along with her newsletters and blog proclaiming how wonderful she is...the fact that she believes this silly personal incident to be of such major interest to the world seems a further indication that her one real interest in this world is herself. If she's so desperate to be a celebrity, perhaps she could appear alongside George Galloway and other worthless bozos on some trashy TV reality game show."
Bloggers as worthless bozo self-publicists? I couldn't possibly comment.
Lynne makes an interesting case study of the modern MP. She is a very active blogger, and has also been pro-active on Twitter as @lfeatherstone. She has recently been experimenting with using YouTube - more successfully than Gordon - and asking for feedback on her efforts.
However, Lynne also appreciates the power of the local press, and still writes a traditional MP's "View from the house" column for the Ham & High Broadway. I think it is important to make the point here that the Ham & High is not a 'Lib Dem' paper, but does still take the civic duty of providing a means for residents to find out what their MP is up to seriously.
And in case you don't buy the paper, she also makes it available on her website and via email.
That valuable link with local democracy
Interestingly, where I live, in Haringey, to some extent the Muswell Hill Journal and the Ham & High Broadway have found themselves a little eclipsed, as the national press have been showing an intense interest in the workings of the local council, thanks to the notoriety of the 'Baby P' case.
A story about how much Haringey spent on communications was consequently one with extra interest, especially after it had emerged that £19,000 had been spent on coaching the staff involved in that harrowing case.
The TaxPayers' Alliance figures showed that the council had spent £3.4 million on publicity, although it was a little disingenuous of them to label this entirely as money for "spin doctors", since the communications budget presumably also includes expenditure on statutory notices and recruitment advertising amongst other things.
I detected more than a little hint of self-interest in the 18th December editorial of the Ham & High Broadway though:
"Perhaps the most astonishing fact is that both councils [Haringey and Camden] are spending more while deliberately restricting the methods by which they place information in the public domain.

They are reducing advertising of important things like planning applications and job opportunities in newspapers and magazines, which are easily accessible by the vast majority of people for a very affordable price, and relying more on their own websites, which are not as readily available to all, and require an expensive outlay."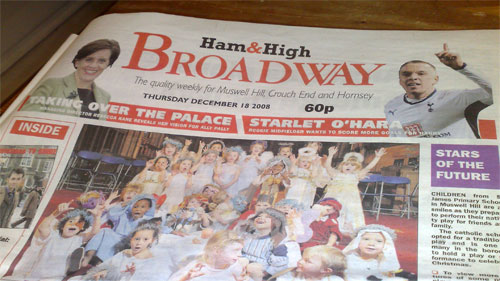 In the next part of this series I want to look a little bit more closely at the current relationship between my two local newspapers, and the local council's rival publication 'Haringey People'.