'Local newspaper week' - Council newspapers in London
"H&F News is Hammersmith & Fulham's leading newspaper, with more readers, more news and more influence than any other paper. If you are looking for a way to reach homes across Fulham, Hammersmith and Shepherds Bush which is cost effective and reliable, then look no further. 87,000 copies of H&F News are delivered monthly to homes across the borough - more than any other local media."
That must sound pretty attractive to an advertiser trying to target the local area. And even if you aren't a business and you want to advertise in print individually, this sounds pretty good too: "Free classified advertising - Buy, sell or rent anything under the sun with h&f news."
It isn't a commercial publication though, this is the sales pitch from the local council's newspaper - 'H&F News'.

There were a couple of interesting comments left on my 'Local newspaper week' blog post about Local Council magazines and newspapers. In particular, Edward Welsh, who is Programme Director, Media and Campaigns at the Local Government Association posted:
"We surveyed 199 councils across England and found that four out of five of them only produce a magazine six or fewer times a year so they don't compete.

Two thirds of residents know nothing or next to nothing about local government. This means they have no idea what council services are available, who to complain to if something goes wrong, nor where their council tax is going.

This produces one of the biggest moans about local government -- 'where does my council tax go when my council only empties the bins and issues parking tickets?' The reality is that a typical council is actually involved in 800 different activities. Being oblivious to 798 of these services is bad for people who need them, such as an elderly woman who requires help in her home, a mum looking for something to do with her children in the holidays or a resident with a noisy neighbour.

It's also bad for democracy. Your council tax goes on these services. You should know how it's spent and that the services you use or need are provided by a political institution which you can influence through the ballot box."
James Goffin, who writes for the East Anglian Daily Times, replied:
"The LGA questionnaire proves nothing of the sort. It's fairly self-evident that where a council doesn't publish a newspaper, its non-existence won't harm existing titles. Averaging out figures over the country only serves to mask what's happening.

To begin with you only had replies from half of councils; these were self-selecting and you don't indicate if the sample was in anyway representative. But let's assume for now it was.

Of the London councils that take paid advertising, the average revenue was £169,000 a year.

60% of London councils said local commercial titles had closed or struggled in the last year and 75% said it was a result of decline in advertising revenue.

An average decline of £169k a year perhaps?

Councils have produced informative magazines for years without complaints from the media - the problem now is that an increasing number are doing more than that and using taxpayers cash - an average of £43k a year, on the LGA's figures - to compete with commercial titles."
I take Edward's point that 'your mileage may vary' when it comes to what councils are doing - so I thought I'd do a bit of primary research myself. I've looked at each of the London Boroughs, and found out whether they publish a magazine at the moment, how frequently it appears, and whether it takes commercial advertising. [1]
Based on those figures it appears that only two London Boroughs - Bromley and Kingston upon Thames - do not have a publication. A quarter of the publications are at least fortnightly, and 71% of publications produced by London Boroughs take commercial advertising.
In amongst the information on council services you'll find word searches for kids in Enfield, Sudoku in Hackney and a free monthly page of publicity for Arsenal in Islington.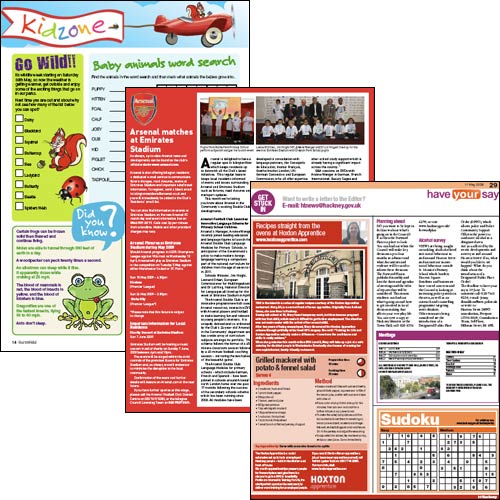 Edward Welsh is able to assert that council newspapers are not competing with the local press because: "Neither the Newspaper Society nor the Society of Editors have been able to produce any research to the contrary".
Given the situation that has developed in London, I'd suggest that might be a good place for the regional press to start their research next time around.


[1] I know, it is a shocking idea isn't it - a blogger doing some original research rather than just ripping off something from the mainstream media, or regurgitating agency copy or a press release. []