West Ham away shirt design #FAIL
It is always small things that are telling, and if ever there was evidence that the replica kit culture of the modern football game has become truly absurd, it was events yesterday at Villa Park.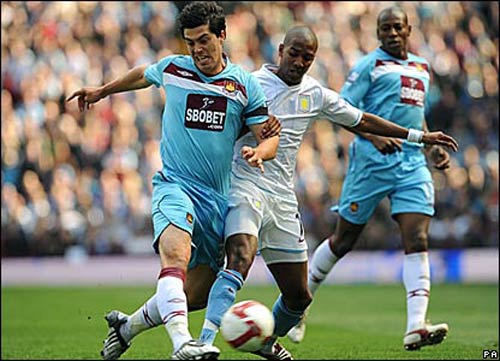 It used to be that your second 'change' strip was only worn when a clash of colours meant that you were forced to change. Nowadays, the 'away' kit is trotted out most games when you are away from home, for merchandise familiarity, rather than any real need. In fact, England sometimes play in their away kit at home to promote new designs. And I bet the designs don't get approved until focus groups and research have proved that the shirt is sufficiently different to ensure a purchase is required, yet traditional enough that the fans are not alienated.
And because of that, it seems that the actual reason for having one has been lost in the design process.
West Ham only need to have a change shirt for those games where they are playing against another team in claret and blue. Now, there is a chance they might get drawn against Burnley or Weymouth in a cup game, but basically it means that the absolute minimum design requirement for a West Ham away kit is that it doesn't clash with Aston Villa's home shirt.
Which is what made it all the more bizarre that Aston Villa ended up wearing some third choice white training tops in the Premiership yesterday because West Ham didn't have a kit at their disposal that didn't clash.